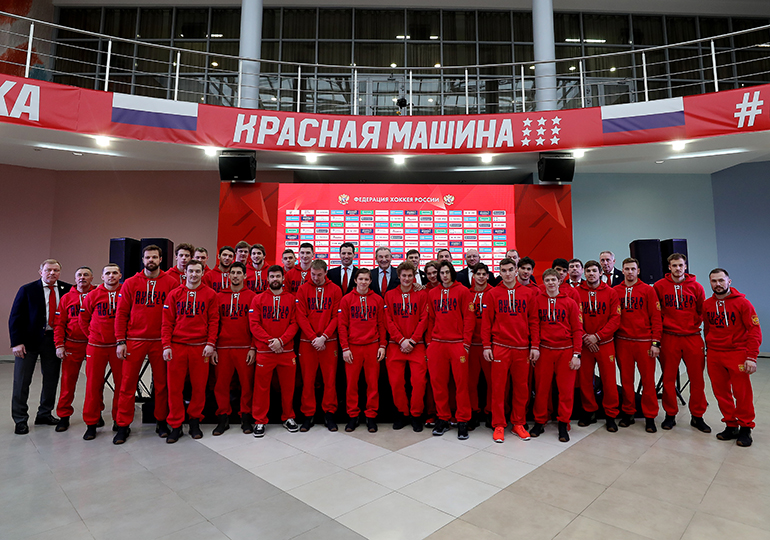 On February 4, at the Novogorsk training complex, the Russian Ice Hockey Federation (RIHF) held a media briefing ahead of the Swedish Hockey Games, the third stage of the 2019/2020 Euro Hockey Tour.

RIHF president Vladislav Tretiak:

- Each tournament for our team is a new challenge. The February stage of the Euro Hockey Tour is a special one for us, we have the chance to take a look at our young players who are the future of our ice hockey. Six players, who recently competed at the World Junior Championship, will make their senior national team debuts. Our next goal is the 2020 World Junior Championship, but our overall goal is the 2022 Olympic Games. So far, this has been a successful start to the year, with all of our teams gaining medals at their respective competitions. We want our young players to settle at this level. Discipline can beat class, there are a lot of examples of this happening.

RIHF vice-president, national team general manager Roman Rotenberg:

- We are doing everything possible to make sure that our ice hockey moves forward. We are the only country in ice hockey history to be the reigning champions of both the senior Olympic Games and the Youth Olympic Games at the same time. We always want to win every game. Our goals haven't changed.

Senior national team head coach Alexei Kudashov:

- Our task at this competition is to win it. Our players are all leaders for their respective clubs, they deserve to be here. We will hold a training session tomorrow. Our philosophy is to play aggressive ice hockey. The players from the World Junior Championship will be key members of our team at this tournament. Our captain is Bogdan Kiselevich, while Anatoly Golyshev, Rushan Rafikov and Andrei Mironov will form his assistants.

Senior national team coach Valery Bragin:

- I had a conversation with the RIHF, being offered a place with the senior national team. I decided to agree. A lot of the players here have been a part of my team in the past, I know them well. The federation took this aspect into account when hiring me for this role. I have a new motivation to continue working and being useful to the national team.

Defenseman Bogdan Kiselevich:

- It's always an honour when you are called up to the national team. You always have plenty of energy and motivation when representing your nation, I really want to show why the coaches believe in me. I have never been the captain of the national team before, but I've had this role at club level. Of course, this is a unique situation, but I have to enjoy it while remembering that it might never happen again. We need to peform well at the Swedish Hockey Games, achieving positive results.

Forward Vasily Podkolzin:

- The young players are receiving a chance to show our talents. I know a lot of the guys who have been coached by Valery Bragin before. The experience of participating at the World Junior Championship will help me, I don't feel nervous.

Forward Kirill Marchenko:

- Yes, I do feel nervous before representing the senior national team for the first time, but we all simply have to show what we are capable of. I can say that the World Junior Championship really helped me personally. Will my line be mixed up? We have a great mutual understanding, we've been performing well in the KHL.