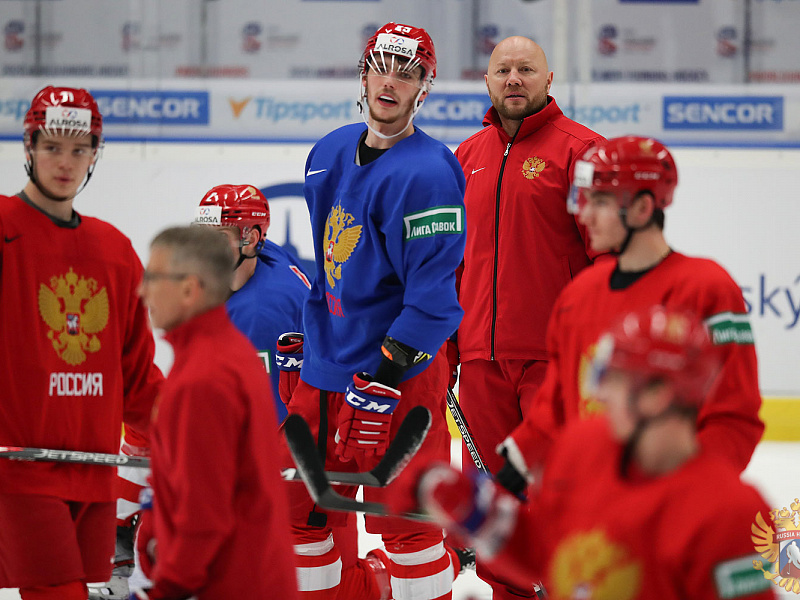 The under 20 Russian national team trained in Ostrava ahead of the 2020 IIHF World Junior Championship semi-final against Sweden.

The players trained in these following lines:

Goalkeepers: Askarov, Miftakhov, Isaev.
Whites: Romanov, Galenyuk - Denisenko, Khovanov, Sokolov.
Blues: Pylenkov, Zamula - Groshev, Morozov, Alexandrov.
Reds: Misyul, Zhuravlyov - Marchenko, Voronkov, Podkolzin.
Greens: Malyshev - Rtishchev, Kruglov, Sorkin.

Coach Igor Larionov:

- The decision to train at this stadium was the right one, we wanted to give our players the chance to feel the ice again at this arena. In order to rob Sweden of the puck, we need to firstly win the faceoffs, and I can say that we are taking care of possession a lot more. This is a key component which allows us to outplay the opponents, including the Swedes.

Forward Alexander Khovanov:

- I don't agree that Sweden haven't been tested yet, they managed to beat Finland and the Czech Republic, and they are playing well. Their strength? They play with the correct system. We don't feel any pressure, it's calm within the group. Yes, maybe we will feel the pressure before the puck drops, but that is normal.

Forward Vasily Podkolzin

- The World Championship is the best time of your life. We all believe in each other, and we have a great team. We have to play like we did against Canada and Germany, playing at high speed with the puck. We can beat Sweden for pace. Penalty shots? That is a component of the game which can decide the outcome.