ALL NEWS
Reaction after defeating Switzerland at the World Junior Championship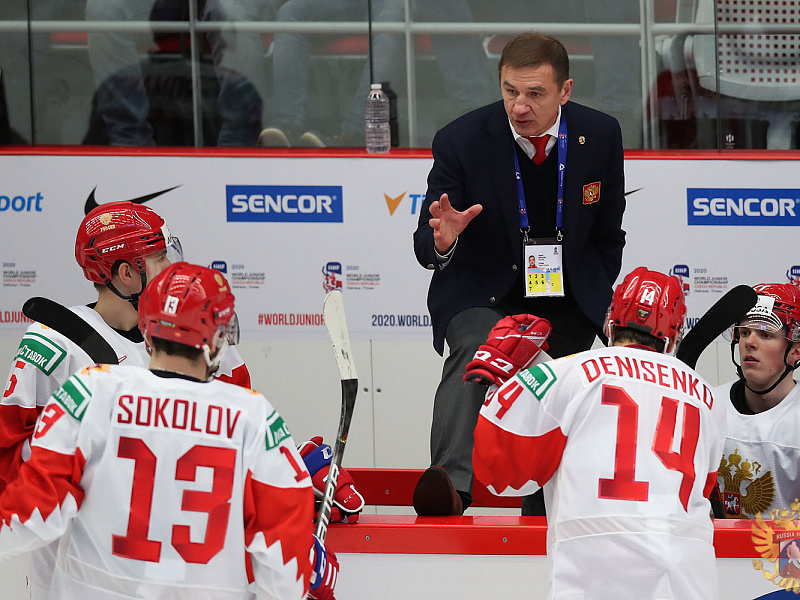 Valery Bragin, Grigory Denisenko, Vasily Podkolzin and Yaroslav Askarov all shared their opinions following the 3:1 2020 World Junior Championship quarter-final win against Switzerland in Trinec, the Czech Republic.

Head coach Valery Bragin:

- We did well on the special teams today, we had chances to score more goals. Before the game, we did try to calm the guys down, but they understood the importance of the match and this took its toll on them. Our penalties? Yes, there are too many of them, we are speaking to the players about this. Changes to our line-up? There are a couple of positions which require thought.

Forward Grigory Denisenko:

- All of the guys did a great job today, it was a tough game with a lot of penalties. We have to stop giving the opponents powerplays all of the time. Due to this game being played early in a different city, we didn't sleep a lot, our pre-game routine was broken. Nevertheless, despite that factor, everything went fine.

Forward Vasily Podkolzin:

- I wouldn't say that we were nervous, we simply wanted to see how the Swiss play. Ice hockey in Switzerland is progressing. We were prepared for a difficult game, and I think that we played well on the powerplay.

Goalkeeper Yaroslav Askarov:

- It's good that we won, the Swiss are dangerous on the counter when the clear the puck. My save in the first period? If you make a superb stop, that means that you made a mistake beforehand. I needed to keep the puck out of the net at any cost. I found out that I was going to play during the training session yesterday. It's always nice to know in good time before the match starts, so that I can prepare in the correct manner.