ALL NEWS
2020 World Junior Championship. Switzerland U20 - Russia U20 - 1:3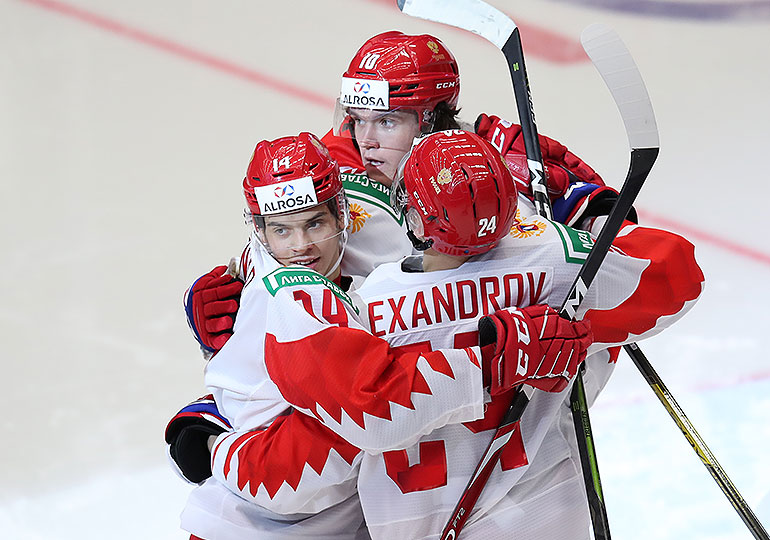 In the quarter-finals of the 2020 IIHF World Junior Championship, the under 20 Russian national team produced a solid performance against Switzerland, earning a commanding 3:1 victory.

During the second period, Dmitry Voronkov gave Russia the lead on the man advantage, but Gaetan Jobin promptly conjured up an equaliser for the Swiss.

Nevertheless, the Russians came roaring back, as Alexander Khovanov brilliantly turned Grigory Denisenko's pass into the net and Voronkov grabbed his second - again on the powerplay.

In control of the game, Russia calmly saw it out in the third period, in turn sealing a safe passage through to the semi-finals. The next match will take place on Saturday.

Match protocol:

Switzerland U20 - Russia U20 - 1:3 (0:0, 1:3, 0:0)

Goals:

0:1 Voronkov (Denisenko, Alexandrov), 21.12
1:1 Jobin (Salzgeber), 27.08
1:2 Khovanov (Denisenko), 34.07
1:3 Voronkov (Khovanov, Zamula), 38.13

Goalkeepers: Hollenstein - Askarov

Shots on target: 15 - 36

Faceoffs: 26 - 35

Penalty minutes: 14 - 10

02.01.2020.