ALL NEWS
Reaction after defeating Germany at the 2020 World Junior Championship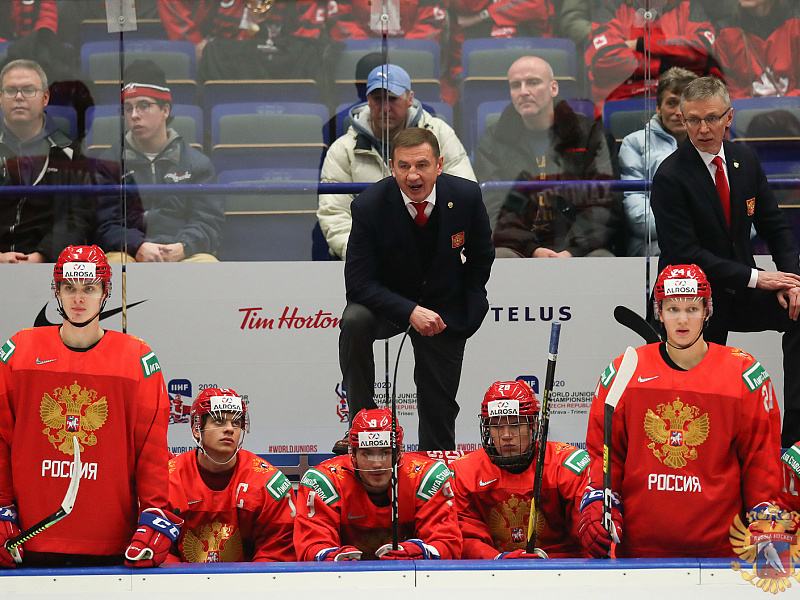 Following the emphatic 6:1 win against Germany in the concluding game of Group B at the 2020 World Junior Championship, Valery Bragin, Yegor Zamula and Grigory Denisenko shared their emotions.

Head coach Valery Bragin:

- When we were leading by a lot of goals, the players started to think about gaining points. We need to be more careful. However, despite that, we played well. The opponents had a game yesterday, whereas we managed to rest. We were fresher. It was a high-quality performance from us. Following the defeat against the USA, we held a team meeting, explaining that the tournament is just starting. We felt calm today. Yes, we did take too many penalties, but at least we got to train our penalty kill. The powerplay changes? You can see the result for yourselves.

Defenseman Yegor Zamula:

- All of us believe in each other, there weren't any nerves. However, while we are pleased, none of us feel relaxed, we have to win every match now. Finally, we did score on the powerplay, and I hope that we continue playing in the same manner. We need more stability. Once again, we did take a lot of penalties, but the guys did well to kill them successfully.

Forward Grigory Denisenko:

- We had full concentration for this game, no one felt nervous. On the powerplay, we were focused on crashing the net, so finally the puck went into the net. We played in a more simple manner. Nevertheless, we certainly need to do something about our penalties, it is a problem. We can't be satisfied, there are always things to improve.