ALL NEWS
2020 World Junior Championship. Russia U20 - Germany U20 - 6:1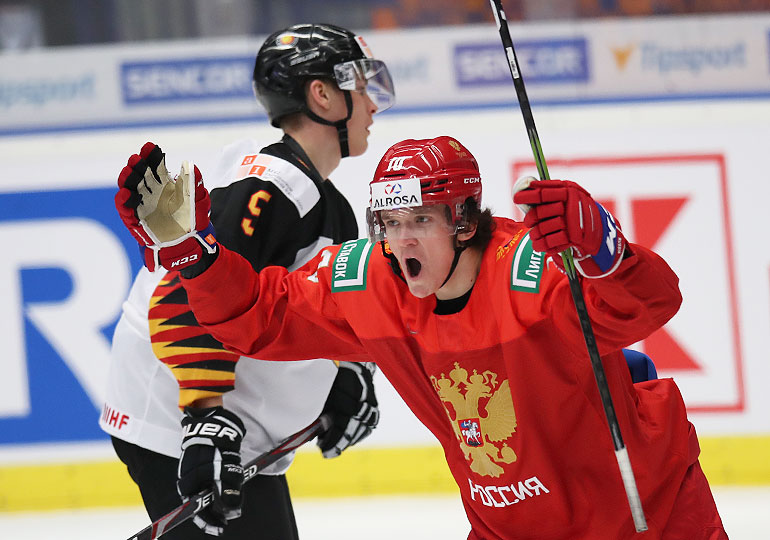 In the concluding match of the group stage of the 2020 IIHF World Junior Championship, the under 20 Russian national team sealed qualification from Group B, emphatically defeating Germany 6:1 in the Czech Republic.

Starting in an aggressive manner, Russia quickly took control of proceedings, as Kirill Marchenko struck twice within the opening 13 minutes of play.

After Germany wasted a few promising chances, the Russians promptly put the game out of sight in the second stanza, with Grigory Denisenko and Pavel Dorofeev - twice - striking on the powerplay.

Following a goal from Dmitry Voronkov in the third period, the Germans did claw one back, but Russia comfortably saw the match out to earn a quarter-final berth!

Russia will face Switzerland in the quarter-final phase. The game will take place at 14:30 Moscow time on Thursday.

Match protocol:

Russia U20 - Germany U20 - 6:1 (2:0, 3:0, 1:1)

Goals:

1:0 Marchenko (Alexandrov, Morozov), 06.10
2:0 Marchenko (Podkolzin, Voronkov), 13.19
3:0 Denisenko (Khovanov), 34.19
4:0 Dorofeev (Marchenko, Romanov), 34.59
5:0 Dorofeev (Marchenko, Romanov), 38.40
6:0 Voronkov (Marchenko, Podkolzin), 40.38
6:1 Kinder (Mass), 57.43

Shots on target: 36 - 22

Penalty minutes: 12 - 10

31.12.2019.