ALL NEWS
2020 World Junior Championship. USA U20 - Russia U20 - 3:1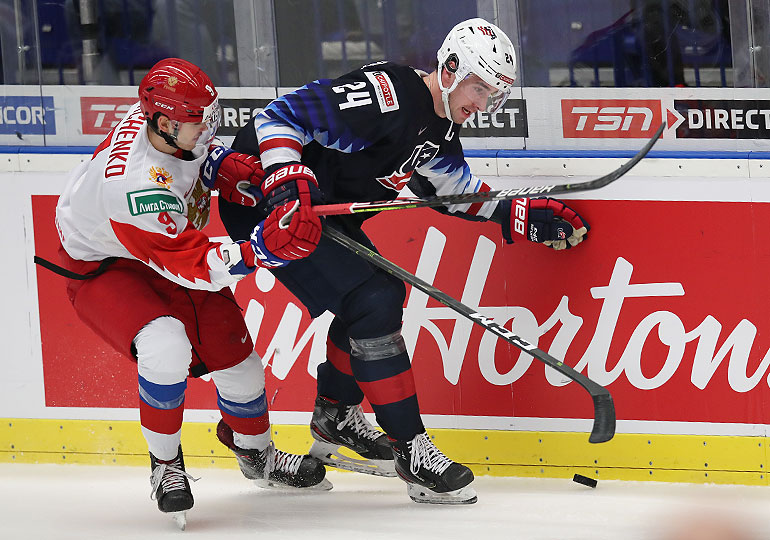 In the third group stage match of the 2020 IIHF World Junior Championship, the under 20 Russian national team came up short against the USA, conceding a 1:3 defeat in a hotly contested battle.

With the two nations largely matching each other throughout proceedings, the opening goal was always going to be crucial, and it was the Americans who scored it with Arthur Kaliyev smashing a shot beyond Amir Miftakhov from the right wing on the powerplay. Unfortunately for the Russians, they then contrived to concede a second marker just six seconds later, as Nick Robertson's deflected effort squeezed under Miftakhov. Both goals were tallied in the closing stages of the second stanza.

Kaliyev subsequently extended the American advantage to three at the start of the period, as his seemingly harmless wrist shot somehow snuck under the goalkeeper. Miftakhov was immediately replaced by Yaroslav Askarov in the Russian net after that goal.

Moments later, Alexander Romanov cut the deficit to two with a thumping one timer from distance, but the opponents held on to claim a 3:1 victory.

Russia will compete against Germany in the concluding Group B game on December 31. Puck drop is scheduled for 17:00 local time.

Match protocol:

USA U20 - Russia U20 - 3:1 (0:0, 2:0, 1:1)

Goals:

1:0 Kaliyev (Zergas, Caufield), 36.41
2:0 Robertson (Wahlstrom), 36.47
3:0 Kaliyev (Zergas, Drury), 41.20
3:1 Romanov (Zhuravlyov, Alexandrov), 43.04

Goalkeepers: Knight - Miftakhov/Askarov

Shots on target: 24 - 26

Faceoffs: 29 - 29

Penalty minutes: 16 - 26

29.12.2019.