ALL NEWS
2020 World Junior Championship. Russia U20 - Canada U20 - 6:0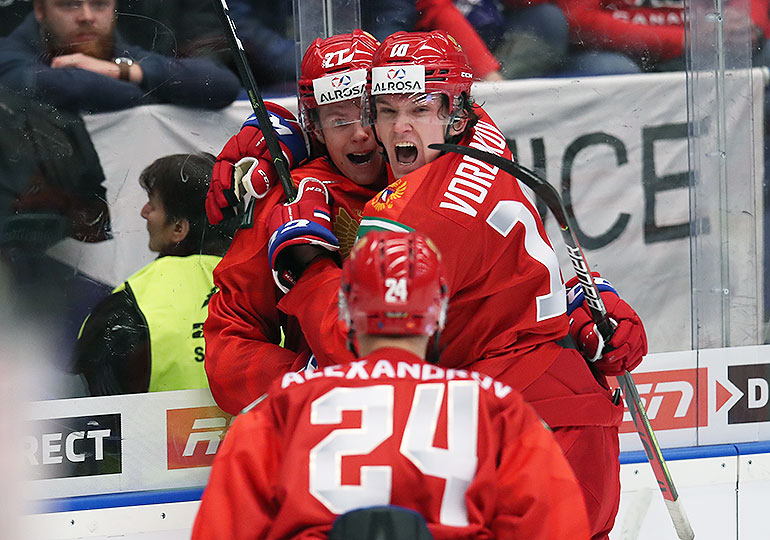 The under 20 Russian national team, producing a superb performance, thrashed Canada 6:0 in the second game of the 2020 IIHF World Junior Championship.

Following the disappointing loss to the Czech Republic on Thursday, a response was required, and Alexander Khovanov got the show on the road inside the first two minutes as his wrister fooled Nico Daws who ended up clumsily knocking the puck over the line with his blocker.

The lead was soon doubled as Pavel Dorofeev neatly slotted into the net at point blank range with the goalkeeper down and out. In the mood for more, the ruthless Russians subsequently increased the advantage to three in the opening period of play, with Nikita Rtishchev successfully pouncing on a juicy rebound.

Daws, enduring a nightmare in the Canadian net, was eventually pulled in favour of Joel Hofer after Nikita Alexandrov notched the fourth goal with a wonderful solo effort.

However, that didn't change the flow of the match, as Yegor Sokolov promptly tipped in from the doorstep, Grigory Denisenko, the Russian captain, then joined the party by firing a wrist shot from distance into the right corner.

Completely in control of proceedings, Russia calmly saw the game out in the third period, and the team will look to take this momentum into tomorrow's important duel with the USA. Puck drop is scheduled for 21:00 Moscow time.

Goalkeeper Amir Miftakhov stopped all 28 shots he faced as he picked up a well-deserved shutout.

Match protocol:

Russia U20 - Canada U20 - 6:0 (3:0, 3:0, 0:0)

Goals:

1:0 Khovanov, 01.44
2:0 Dorofeev (Alexandrov, Zhuravlyov), 10.14
3:0 Rtishchev (Pylenkov, Kruglov), 13.43
4:0 Alexandrov (Voronkov), 22.18
5:0 Sokolov (Zamula, Denisenko), 33.09
6:0 Denisenko (Khovanov), 36.24

Goalkeepers: Miftakhov - Daws/Hofer

Shots on target: 40 - 28

Faceoffs: 24 - 26

Penalty minutes: 16 - 8

28.12.2019.