ALL NEWS
Reaction after playing against the USA at the World W18 Championship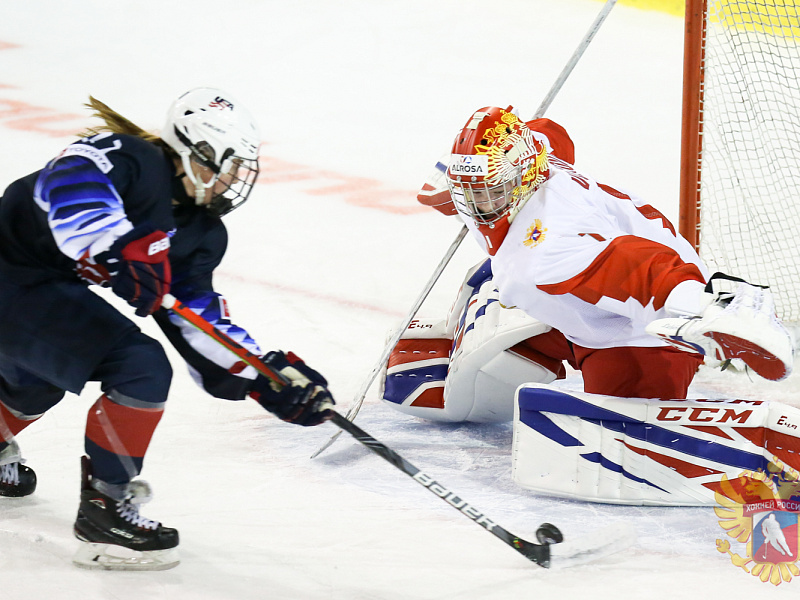 Alexander Syrtsov, Vita Ponyatovskaya and Yuliya Volkova all spoke to the media after the 0:1 loss to the Americans at the 2020 World W18 Championship.

Head coach Alexander Syrtsov:

- The plan was to play solidly in defence. As a result, we didn't have a lot of chances at the start of the game, as we waited for them to make mistakes. Unfortunately, we didn't take advantage of the good opportunities which did appear. It was disappointing to concede that goal, we will analyse it at training. Nevertheless, we will draw the correct conclusions and move forward, the competition is only just starting. We will analyse how Finland play.

Forward Vita Ponyatovskaya:

- I enjoyed the game, all of the girls tried hard and really wanted to win. Sadly, we couldn't use our chances, and we had a lot of them. Canada and America? They are two completely different teams. The Americans are faster, whereas the Canadians are physically stronger. It's great that we now have a day's rest before the next game against Finland, we understand that we have to win.

Goalkeeper Yuliya Volkova:

- My overall impressions from the game are good. In comparison to yesterday, we made an improvement. Was I nervous before this match? No, I prepared for it in my usual manner. I knew that the Americans would unleash a lot of shots. However, their shots are just like the ones which our players attempt, nothing special. My job is to stop the puck. The goal? It came off the leg of our player. Yes, it's frustrating, but we have to now focus on the game with the Finns.