ALL NEWS
2020 World Junior Championship. Czech Republic U20 - Russia U20 - 4:3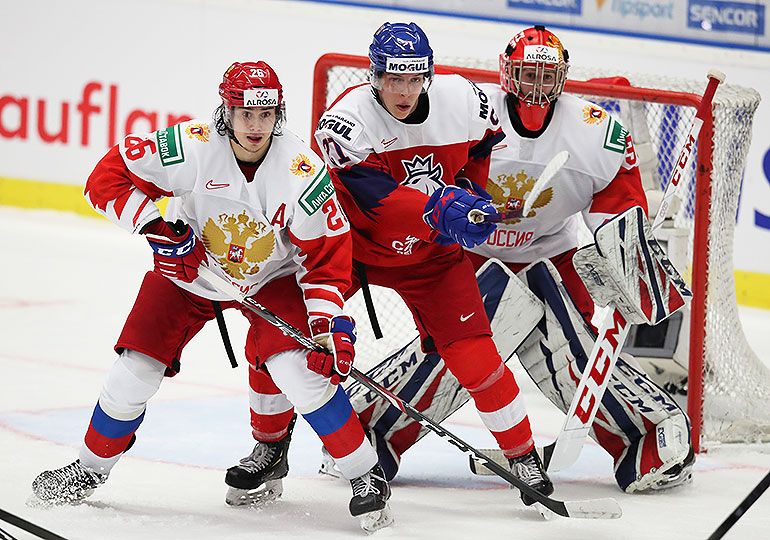 In the opening game of the 2020 IIHF World Junior Championship, the under 20 Russian national team came up short against the Czech hosts in Ostrava, conceding a narrow 3:4 defeat.

Making a fast start in front of their home support, the Czechs immediately gained a two-goal lead, as Simon Kubicek slapped a one-timer beyond Yaroslav Askarov on the powerplay and Jan Mysek found the left corner when on the counter.

However, Russia quickly drew level. With 10 minutes played, Yegor Zamula beat the opposing goalkeeper, before Vasily Podkolzin lashed the puck in from close range. The Russians registered 18 shots on target in the first period compared to the Czechs' five.

The second period followed the pattern of the first. Matej Blumel handed the home team another lead, and Zamula then promptly equalised with his second of the game. The Czech Republic, however, tallied a second powerplay marker through Jan Jenik to move 4:3 ahead. Russia swapped Askarov for Amir Miftakhov in net for the third period.

In the ensuing third frame, the Russians pressed hard for another equalised, but the Czechs managed to hold on.

Russia will now prepare to face Canada on Saturday. Puck drop is scheduled for 21:00 Moscow time.

Match protocol:

Czech Republic U20 - Russia U20 - 4:3 (2:2, 2:1, 0:0)

Goals:

1:0 Kubicek (Jenik, Teply), 02.46
2:0 Mysak (Teply), 07.41
2:1 Zamula (Kovanov, Denisenko), 10.19
2:2 Podkolzin (Marchenko, Romanov), 14.32
3:2 Blumel, 25.31
3:3 Zamula (Voronkov, Alexandrov), 26.16
4:3 Jenik (Teply, Sir), 37.25

Goalkeepers: Dostal - Askarov/Miftakhov

Shots on target: 22 - 36

Faceoffs: 43 - 25

Penalty minutes: 12 - 26

26.12.2019.