ALL NEWS
Russia W18 compete in the first match of the 2019 Women's W18 Championship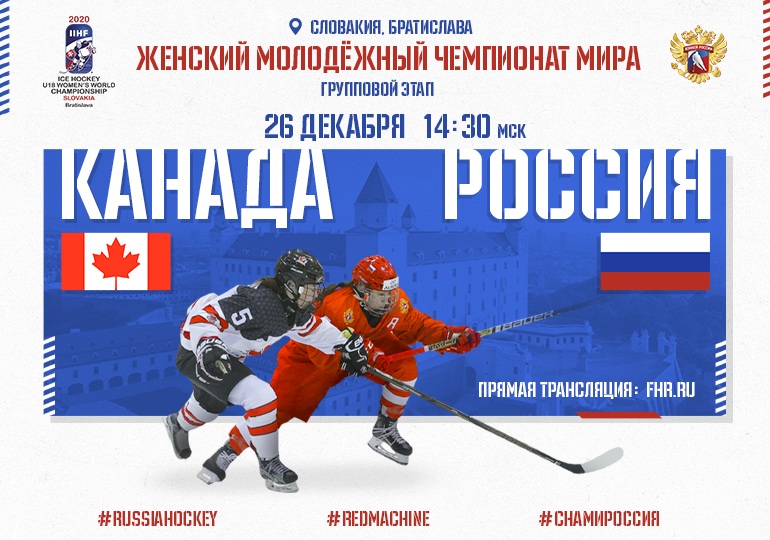 In Bratislava, Slovakia, the under 18 Russian women's national team will play against Canada in the first match of the 2020 IIHF World W18 Championship.
Yesterday, the final squad for the competition was named:
Goalkeepers: Anna Alpatova (Tornado), Yuliya Volkova (Voskresensk), Olga Voronina (SKSO Yekaterinburg).
Defenders: Polina Arkhipova (Elektrostal), Anastasia Astrakhantseva (Agidel), Karina Akhmetova (Moscow), Irina Zhigulina (Biryusa), Anastasia Petina (Tornado), Alyona Shmykova (SKIF), Vita Ponyatovskaya (HTI Stars), Anna Sviridova (Atlant).
Forwards: Viktoriya Butorina, Polina Kirichenko (both Voskresensk), Valeriya Dryndina, Polina Tarasova, Elizaveta Shkalyova (all Tornado), Veronika Korzhakova, Polina Luchnikova, Ilona Markova (all Agidel), Polina Doyanova, Sofiya Lifatova (both Biryusa), Varvara Boriskova, Kristina Glukharyova (both Dynamo Saint Petersburg), Kristi Shashkina (SKIF).
Russia are competing against Canada, Finland and the USA in Group A, while the Czech Republic, Slovakia, Sweden and Switzerland play in Group B.
Ilona Markova is the Russian captain, while Polina Luchnikova and Kristi Shashkina wear the "A" on their jerseys.
Puck drop is scheduled for 14:30 Moscow time.
LIVE BROADCAST