ALL NEWS
Friendly match. Russia W18 - Tornado - 4:2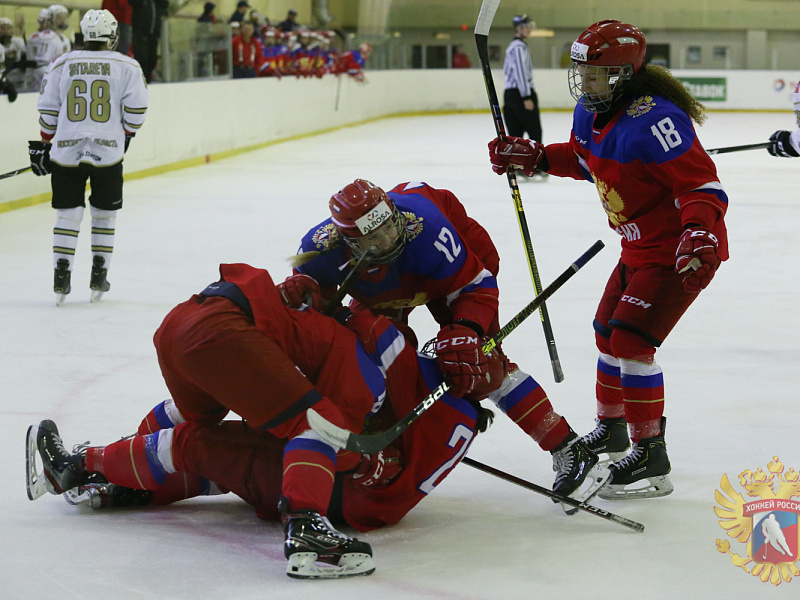 With the 2020 IIHF World Junior Championship fast approaching, the under 18 Russian women's national team held a friendly match against HC Tornado Dmitrov on Saturday, earning a 4:2 victory.

Ilona Markova, Kristina Glukharyova, Varvara Boriskova and Kristi Shashkina scored the Russian goals.

Tomorrow, the team will leave for Slovakia, where the World Championship will take place. The first game is scheduled for December 26 against Canada.

Travelling squad:

Goalkeepers: Anna Alpatova (Tornado), Yuliya Volkova (Voskresensk), Olga Voronina (SKSO Yekaterinburg).

Defenders: Polina Arkhipova (Elektrostal), Anastasia Astrakhantseva (Agidel), Karina Akhmetova (Moscow), Irina Zhigulina (Biryusa), Anastasia Petina (Tornado), Darya Teterina (SKSO), Alyona Shmykova (SKIF), Vita Ponyatovskaya (HTI Stars), Anna Sviridova (Atlant).

Forwards: Viktoriya Butorina, Anna Ichaeva, Polina Kirichenko (all Voskresensk), Valeriya Dryndina, Polina Tarasova, Elizaveta Shkalyova (all Tornado), Veronika Korzhakova, Polina Luchnikova, Ilona Markova (all Agidel), Polina Doyanova, Sofiya Lifatova (both Biryusa), Varvara Boriskova, Kristina Glukharyova (both Dynamo Saint Petersburg), Kristi Shashkina (SKIF).

Match protocol:

Russia W18 - Tornado - 4:2 (1:0, 2:1, 1:1)

Goals:

1:0 Markova, 05.14
2:0 Glukharyova, 23.40
3:0 Boriskova (Butorina), 37.03
3:1 Shtaryova, 38.07
3:2 Shokhina (Nesterova), 48.15
4:2 Shashkina (Luchnikova), 58.34

Goalkeepers: Alpatova - Abdullaeva

21.12.2019.