ALL NEWS
Russia U18 arrive at Moscow Sheremetyevo Airport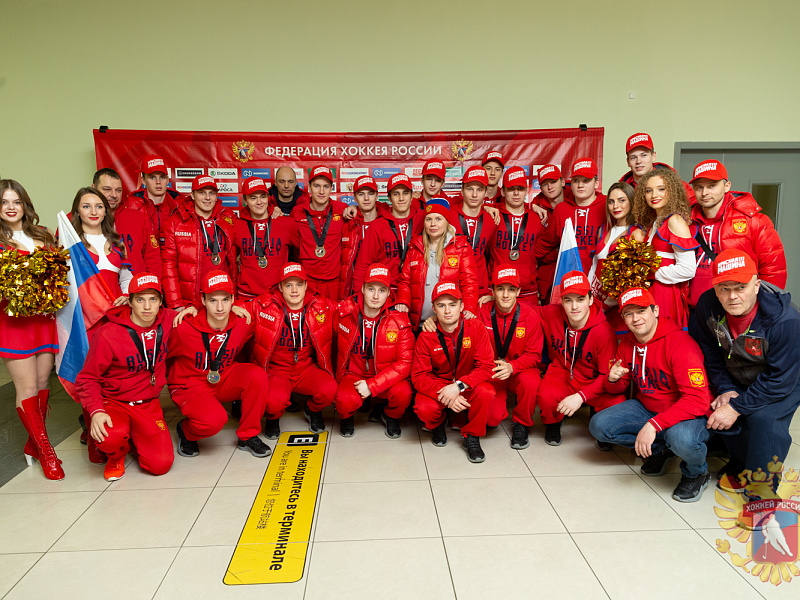 Following their triumph at the 2019 World Junior A Challenge in Canada, players, coaches and staff of the under 18 Russian national team were greeted at Moscow Sheremetyevo Airport.

History has been made! For the first time since the competition began, Russia have won the World Junior A Challenge, beating Canada East 2:1 in the showpiece game with Shakir Mukhamadullin striking the winning goal on the powerplay in the second overtime period. The fact that other participating teams had older players in their respective rosters makes the triumph even more special. The final against Canada East lasted for 3.5 hours.

Head coach Sergei Golubovich:

- Some parts of our baggage didn't arrive, but thanks to the staff of Sheremetyevo Airport, we managed to quickly solve the situation. The main factor which contributed to our triumph? Character and patience. The guys understood what it's like to play against players older than you. Is this an historic victory? Taking into account that we never won this tournament before, then yes, it is. The technical base, the approach of the Russian Ice Hockey Federation's management, the players and staff all played their respective role.

Goalkeeper Yegor Guskov:

- Overall, we spent around 14 hours on planes, and that's not including the amount of time we waited for connecting flights. Yes, it was a tough trip, but the main thing is that we are home! We even heard people speaking Russian when we played in the final against Canada East. In that game, we conceded after we took two late penalties, but in the break we all said that we needed to win. This is a step forward ahead of the World Championship. My personal performance? There are things which I need to improve. What will I do when I get home? Tomorrow we have a game!