ALL NEWS
2019 Channel One Cup. Sweden - Russia - 4:3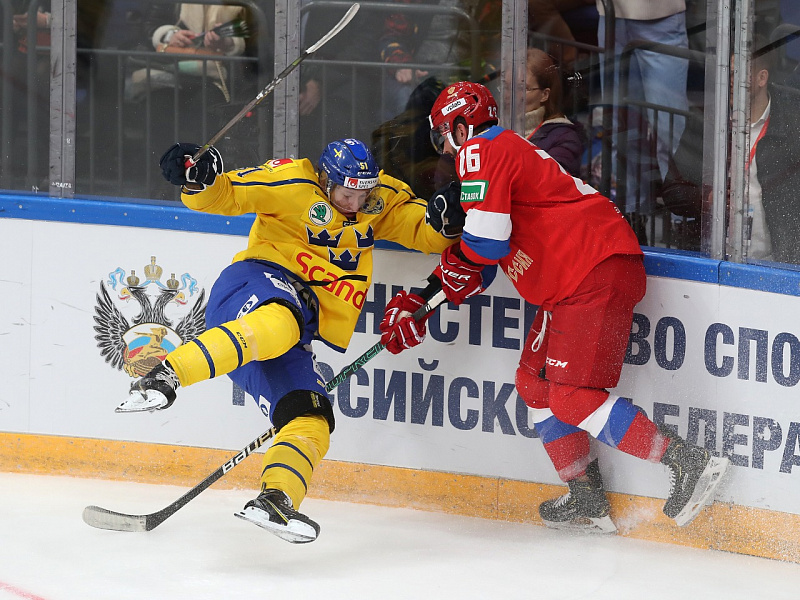 The senior Russian national team conceded a disappointing 3:4 defeat to Sweden in the opening match of the Channel One Cup in Moscow, a tournament which is the second stage of the 2019/2020 Euro Hockey Tour.

At one point, Russia were trailing 0:3, but the team embarked on a spirited comeback to come within one goal of taking a pulsating duel to overtime at the Legends Park.

Immediately settling into their tempo, the Swedes made a strong start in the Russian capital, dictating the flow of the game and subsequently taking an early lead on the powerplay as Andre Petersson lashed a wrister over Alexander Samonov from close range. Sweden then came close to doubling their lead on another man advantage as the pipe came to Russia's rescue.

However, Russia weren't so lucky midway through the frame, as Daniel Brodin fired a rising wrist shot beyond the goalkeeper. In the closing stages of the period, Mikhail Grigorenko should have halved the deficit, but he was denied by a smart save from CSKA Moscow teammate Lars Johansson.

It got even worse for the hosts at the start of the second stanza. Moments after Russia missed a golden opportunity, Malte Stromwall suddenly found himself clean through, and the HC Sochi representative scored with a cunning wrist shot. Samonov was replaced by Ilya Sorokin between the pipes straight after the puck hit the net.

Sweden were seemingly in full control of proceedings. Russia, however, had other ideas, gradually applying heavy pressure on the visitors as several clear opportunities came and went. Eventually, with four minutes left in the second period, Vadim Shipachyov whacked a firm one timer past Johansson to finally get the Russians on the board. Russia registered a large 26 shots on target during the second stanza alone.

For all of their huffing and puffing, it seemed that Russia wouldn't grab a potentially crucial second goal, but it did arrive 10 minutes from time when Kirill Kaprizov converted on the doorstep. To their credit, Sweden weren't fazed by that goal, though, and they promptly reinstated their two-goal lead through Daniel Zaar.

Kaprizov quickly responded with a wonderfully created powerplay goal.

Russia threw everything at the Swedes in the last few minutes, but thanks to faultless goalkeeping from Johansson and committed defending, the away side held on to the victory.

The Russians will next play at the Channel One Cup on Saturday against the Czech Republic.

Match protocol:

Sweden - Russia - 4:3 (2:0, 1:1, 1:2)

Goals:

1:0 Petersson (Paajarvi, Johansson), 03.56
2:0 Brodin (Handemark), 11.43
3:0 Stromwall, 21.48
3:1 Shipachyov (Kuzmenko, Mironov), 36.24
3:2 Kaprizov (Grigorenko, Rafikov), 51.14
4:2 Zaar, 52.19
4:3 Kaprizov (Shipachyov, Slepyshev), 53.57

Goalkeepers: Johansson - Samonov/Sorokin

Shots on target: 19 - 46

Faceoffs: 23 - 31

Penalty minutes: 14 - 6

Referees: Heikkinen, Vikman

Linesmen: Yudin, Bersenyov

12.12.2019. Legends Park, Moscow.