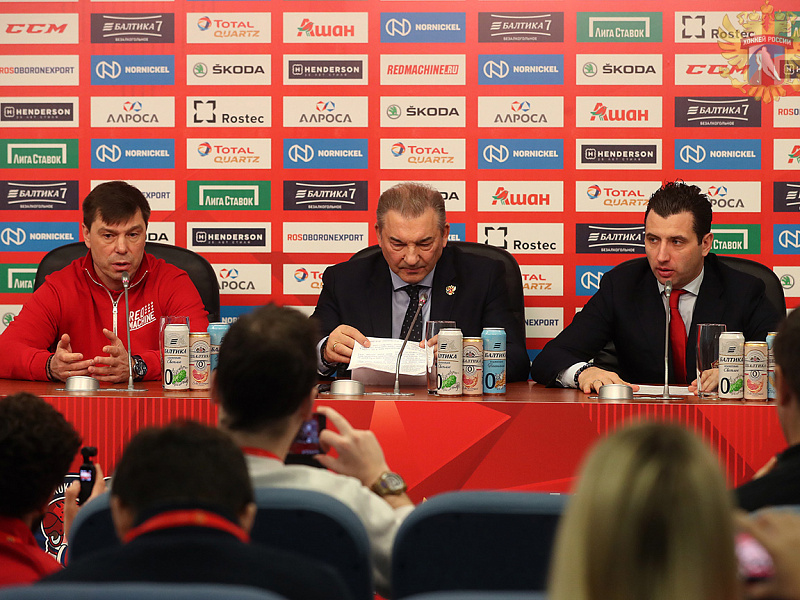 On December 11, a senior Russian national team media day took place in accordance with the upcoming Channel One Cup - the second stage of the 2019/2020 Euro Hockey Tour.

The players trained in these following lines:

Goalkeepers: Samonov, Sorokin, Bilyalov;
Whites: Nesterov, Voynov - Grigorenko, Shipachyov, Kaprizov;
Blues: Rafikov, Ozhiganov - Kuzmenko, V. A. Tkachyov, Burdasov;
Reds: Mironov, Marchenko - Barabanov, Semyonov, Zhafyarov;
Oranges: Lyamkin, Sergeev - Slepyshev, Karnaukhov, Ketov;
Greens: Dronov - V. E. Tkachyov, Yakimov, Slepyshev.

Russian Ice Hockey Federation president, Vladislav Tretiak:

- Time really does fly fast. Since 1967, we have been organising the Channel One Cup, a traditional tournament for us. 50 years ago, I made my debut for the national team. However, we continue to look after our traditions, and we're continuing to look ahead to the future. Of course, we really want to win, especially taking into account that we are playing at home. We will play at the Olympic Games in two years' time. Our task is to look at all of our candidates, and at other Euro Hockey Tour stages we like to see how our younger players perform with the World Championship in Switzerland in mind.

Russian Ice Hockey Federation first vice-president, general manager Roman Rotenberg:

- All of the players in this team are key members of their respective clubs in terms of playing time and the statistics. However, even in a team which contains Olympic and world champions, we have debutants. The team is strong, despite the injury issues. We always pay a lot of attention to our own competition. Of course, the match at the Gazprom Arena in Saint Petersburg stands out, and last year we had more than 70,000 fans at that particular game. It is an unbelievable ice hockey celebration.

Russian national team head coach, Alexei Kudashov:

- We have made some changes to the squad. This is down to injuries. However, we are constantly monitoring the situation, and Bogdan Yakimov is one of the replacement players who has performed really well at club level. He replaced Sergei Andronov. The two Tkachyov forwards? They have gained form in recent matches. Such players like Sergei Plotnikov, Andronov, Ivan Telegin and Viktor Antipin weren't called up because they are carrying injuries. The captain at this competition will be Evgeny Ketov, while Vadim Shipachyov, Vyacheslav Voynov, Nikita Nesterov and Anton Burdasov form his assistants.

Russian national team forward, Vadim Shipachyov:

- All of the players here are talented. We have all spoken together. Let's see how we perform in the games. It's nice to be back in the national team, I feel great and I've trained well. We're looking forward to the match tomorrow.

Russian national team goalkeeper, Timur Bilyalov:

- I am very happy to be in the national team. This shows that my hard work has not been in vain. So far, we haven't discussed anything, and I don't mind if I take to the ice in Moscow or in Saint Petersburg. I'm waiting for my opportunity. Did I expect to be here? I didn't think about it. I am even a bit surprised that I was called up. I don't have any international experience, this is a completely different level in comparison to the KHL.

Russian national team defenseman, Vyacheslav Voynov:

- There is a wonderful atmosphere within the national team. I feel great. If we look back at the Olympic Games, things have changed, but everything is still at a very high level. I would like to play against Finland at the big arena in Saint Petersburg, I took part in such matches in the past. We've had enough time to get used to playing next to each other. A lot of the guys have been in the national team before. Yes, I will have less ice time here after a busy schedule with my club, but never mind.