ALL NEWS
Friendly match. Russia W18 - Russian women's Olympic team - 1:0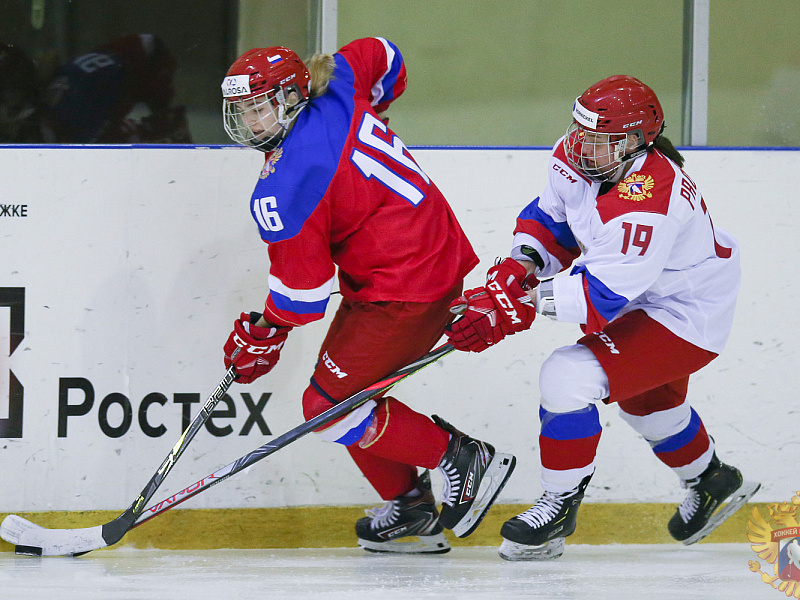 On December 8, a friendly match took place between the Russian women's under 18 and Olympic teams, with the former claiming a 1:0 victory.

Kristi Shashkina, with Polina Luchnikova assisting her, scored the only goal of the game midway through the second period.

Russia W18

Alpatova (Volkova);
Zhigulina, Petina - Luchnikova, Korzhakova, Shashkina;
Sviridova, Akhmetova - Markova, Lifatova, Kirichenko;
Arkhipova, Astrakhantseva - D. Petrova, Tarasova, Butorina;
Teterina, Shmykova - Dryndina, A. Petrova.

Russian women's Olympic team

Merkusheva (Morozova);
Provorova, Ganeeva - Falyakhova, Likhachyova, Rodnova;
Zubok, Chistyakova - Mitrofanova, Dobrodeeva, Kadirova;
Volf, Zubkova - Bolgareva, Starovoytova, Kulishova;
Medvedeva - Yumaguzhina, Mezentseva, Aleksandrova.

Main manager of Russian women's national teams, Vladislav Prodan:

- This is the second year in a row when we have held this match during a December training camp. Both teams are currently training in Novogorsk ahead of upcoming tournaments. This time, the U18 team proved to be stronger, scoring in the second stanza and subsequently coping with their opponent's pressure. I think that the two teams have plenty of motivation, players of the Olympic team want to prove that they are ready to represent the senior side, while the junior team is preparing for the 2020 World Championship. The Four Nations in Sweden will decide who travels to the World Championship in January. This year, the World Championship is starting earlier than usual, with the first game scheduled for December 26 against Canada.

Russian women's Olympic national team defender, Liana Ganeeva:

- We immediately attacked hard, but despite our pressure, the puck didn't go into the goal. Of course, we have to give credit to their goalkeeper, who made great saves. Was this just a formality for us? No, we're preparing for the tournament in Sochi, and this match was an important part of our preparations. The main problem today was our failiure to take advantage of our opportunities.

Russian under 18 national team forward, Ilona Markova:

- This is a tactical victory for us in a tactical game. In terms of pace and commitment, both teams were equal. We tried to play in a compact manner and stick to the game plan. During the second period, we knew that the opponents would begin to attack with more intensity after we had scored the opening goal, but we played the right way. I was the captain today, however it wasn't a shock, I simply tried to be the team leader. We want to win the tournament in Sweden.