ALL NEWS
Russia U17 return home after winning 2019 World Hockey Challenge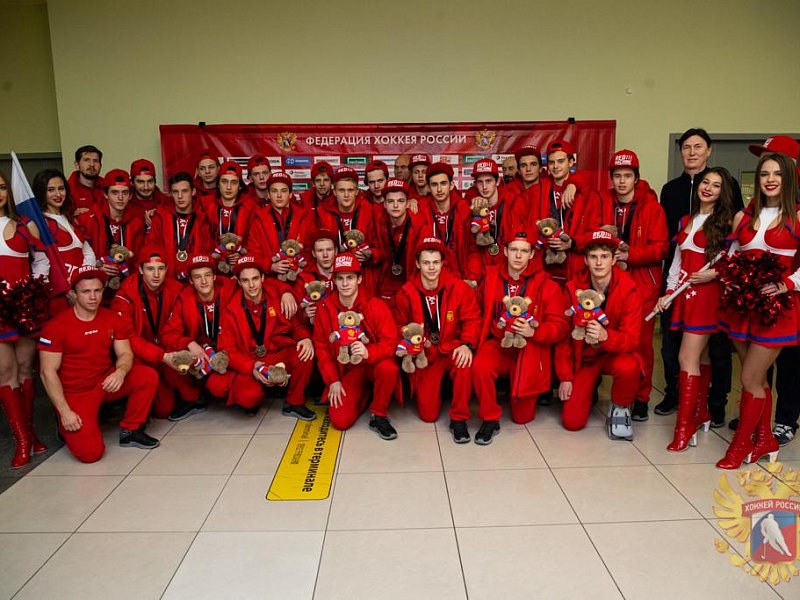 After winning the 2019 World Hockey Challenge, the under 17 Russian national team returned to Moscow.

Russia U17 head coach Andrei Kozyrev:

- At the moment, I only feel tiredness after a very long flight. I was confident that we would win even before the final began. Of course, we felt the support of the Russian Ice Hockey Federation management, analytics and all of the other specialists. The players were given the best facilities to fully focus on ice hockey. The World Hockey Challenge is an unofficial World Championship, so it's great that that we won.

Russia U17 goalkeeper Valery Brinkman:

- Everyone inside the team always had positive emotions, it's wonderful that Russia have now won this prestigious competition two years in a row. I want to say thank you to my parents for introducing me to ice hockey, I dedicate my gold medal to my family. They watched the final, of course. I now want to go to Saint Petersburg and rest, it was a long flight home.

Russia U17 defenseman Pavel Mintyukov:

- I am so happy that we managed to become champions, I dedicate this victory to my loved ones! We were really well prepared for this tournament. When you play for your country, you feel a great responsibility. The smaller ice? It didn't affect us.

Russia U17 forward Prokhor Poltapov:

- Of course, all teams competing at the competition were strong. Nevertheless, despite that fact, we were calm when playing against them. All of us always tried to strictly stick to the game plan. When did I realise that we were going to beat the USA and win the gold medal? Only when the final buzzer sounded!