ALL NEWS
Reaction after losing to Finland at the Karjala Cup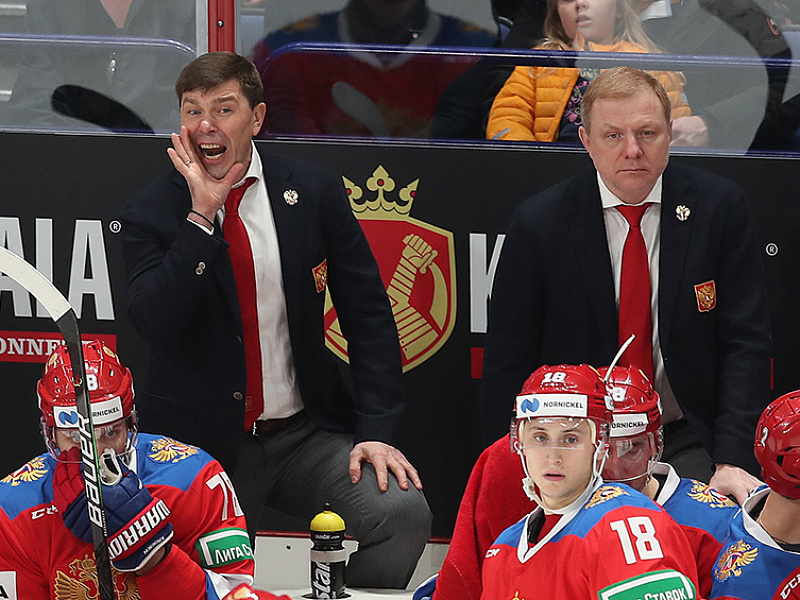 Following the defeat to Finland at the 2019 Karjala Cup in Helsinki, Alexei Kudashov, Anton Burdasov and Rushan Rafikov all shared their emotions with the media.

Head coach Alexei Kudashov:

- We took too many cheap penalties. Of course, we need to improve our play on special teams. We created enough chances to win today. Did nerves take their toll with the penalties? Yes, some of our debutants were nervous, but overall it was a good match. We did not have any time in which to train together. Nevertheless, we understand the problems, and I think that there will be changes. Rushan Rafikov? We know that he likes to attack a lot and that he possesses a great shot.

Forward Anton Burdasov:

- We tried hard, but we didn't play well on our own crease. In my opinion, we were a lot better than the opponents, but we lost. I find it easy playing in one line with Andrei Kuzmenko, I have known him for a long time. I have also been playing well with Artyom Shvets-Rogovoy in Saint Petersburg. Of course, we supported Ivan Bocharov, we didn't want him to be nervous. We have a great atmosphere within our team.

Defenseman Rushan Rafikov:

- The Finns scored two powerplay goals, while we only scored one. This decided the outcome of the match. It was a level game at even strength. Penalties? I think that nerves played a role in the penalties. we can't make fouls like that. My goals? I was given great passes by my teammates. The last time when I scored twice in one game was in the MHL. The Finnish goalkeeper played well, but there were a lot of rebounds and we didn't get to them. It's tough to score with a direct shot against him.