ALL NEWS
Russia Hockey and Liga Stavok revealed the winners of the 2019 Hockey Heroes awards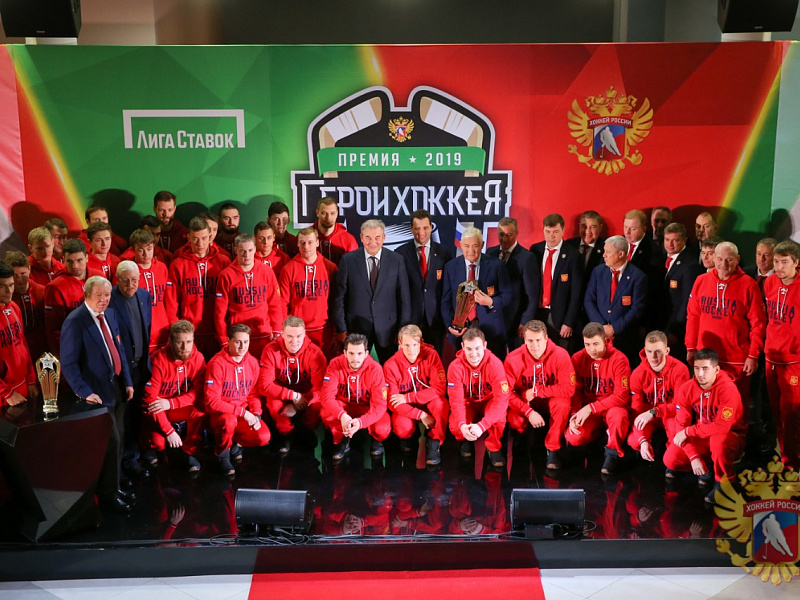 On November 5, the Russian Ice Hockey Federation and Liga Stavok - the official partner of the organisation - revealed the winners of the 2019 Hockey Heroes awards.

This is the second ceremony of its kind after the event was held first in 2018 ahead of the Karjala Cup - the first stage of the Euro Hockey Tour.

Most Valuable Player - Nikita Gusev

On VKontakte, fans choose the player who made the biggest contribution to the national team in the past season.

Top Scorer - Mikhail Grigorenko

The player who scored the most amount of goals last season.

Gentleman of the Year - Artyom Zub

The player who showed the most amount of sportsmanship on the ice while playing well. Chosen by members of the Ice Hockey Hall of Fame.

Best Rookie - Mikhail Sergachyov

The player who played the best out of all of the rookies. Media representatives chose the winner.

Leader of the Team - Alexander Ovechkin

The player who set an example both on and off the ice and made a big contribution to success. Chosen by all members of the national team.

My Home is Russia - Nikita Soshnikov

Awarded to the player who played the best after returning from abroad.

National Team Debut - Pavel Kudryatsev

Prize awarded to the player showed real progress and excellent qualities on the ice after being called up to the senior national team for the first time.

Bet for the Season - Damir Zhafyarov

Award given to the player who demonstrated qualities of a leader and consistency on the ice.

Contribution to the Development of Ice Hockey - Vladimir Vladimirovich Yurzinov

Given to the legendary ice hockey player and coach who made a huge contribution to the development of ice hockey in the country.

President of the Russian Ice Hockey Federation, Vladislav Tretiak:

- We are delighted that we have made the Hockey Heroes awards ceremony a tradition with Liga Stavok. This is our joint idea, and I remember the atmosphere which was at the event last year. The fact that we have repeated it again this year shows our cooperation and attention given to the national team. It's right that we are giving these awards out before the start of the new season for the senior national team - the first tournament in the Euro Hockey Tour.

President of Liga Stavok, Yury Kraskovsky:

- We're happy to be at the Hockey Heroes ceremony this year again. Together with the Russian Ice Hockey Federation, we are making the sport more popular. The national team gave us a reason to be proud of last season, and the main thing is to strive for victory in the most important matches.