ALL NEWS
The RIHF held a celebratory evening dedicated to the 45th anniversary of the Summit 1974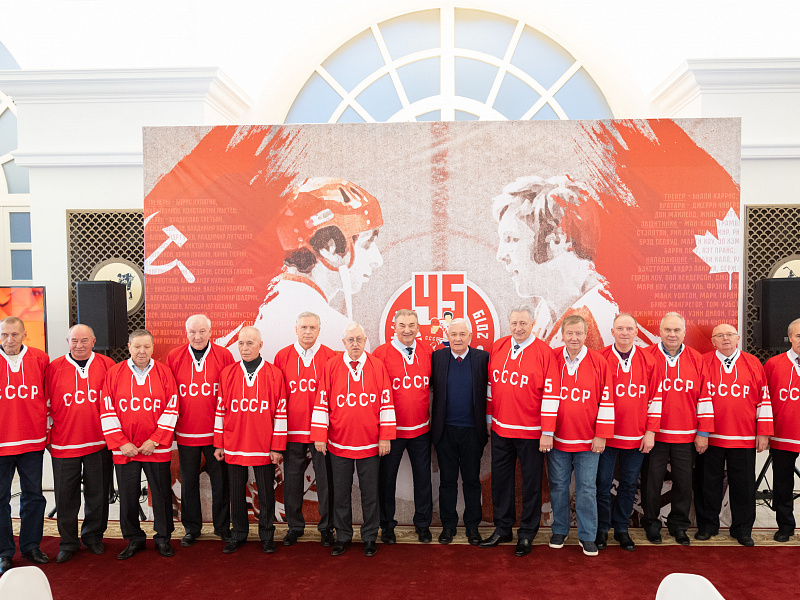 On October 7, veterans of the Summit 1974 between the Soviet Union and Canada were honoured at a celebratory event at the Ice Hockey Museum in Moscow.

President of the Russian Ice Hockey Federation, Vladislav Tretiak, participated in the event. In 1974, he competed in seven of the eight series matches:

- The games in 1972 and 1974 were notable for the whole sporting world. In Canada, our national team presented the best European ice hockey. We should remember all of our ice hockey victories, and we should speak about and honour our winning traditions. I am very happy that our wives have also attended this event today, because they are always our closest supporters. I would like to give our opponents credit too - the Canadians. They did everything in those years to make sure that it was a celebration of ice hockey.

Vladimir Yurzinov, the main consultant of the national team's management group, was then the assistant to head coach Boris Kulagin. He noted the importance of the event:

- So many years have already passed! The saying "big things are seen from a distance" is certainly true, because you later realise what an achievement it was for us to win at the Super Series. For me, as a 34-year-old man, it was my first major coaching experience. The team had players with whom I had played with not long ago. I remember all of the matches and events from the Summit 1974. We can reminisce about this forever.

Two-time Olympic champion, USSR national team captain in the Summit 1974 Boris Mikhailov also spoke about the event:

- I would like to thank the Russian Ice Hockey Federation for organising this gathering today. This was the right thing to do, because this victory was very big and important for us. It's not often that we all meet, and this was a great excuse to come together again. It's also really nice that not only the players are here, but also our families, friends and wives of people who sadly aren't here with us anymore.

Relatives of those who were involved in the Summit 1974 but aren't alive anymore were given commerative rings.

Minister-Advisor, Chargé d'Affaires Stephane Jobin also received a special badge:

- It's a great honour for me to represent Canada and Canadian ice hockey. For our country, matches of the Super Series were very important, and there was a great buzz in the country during the series. Nowadays, our coaches are teaching our players to show the ice hockey which was displayed by the Soviets back then.

Participants of the ceremony watched a video clip of the most memorable moments from the Summit 1974 and a video message from veterans of Canadian ice hockey. After the official part of the event, there was informal discussion between the event's participants.