ALL NEWS
Igor Larionov has been appointed the Advisor to the General Manager of the Russian national team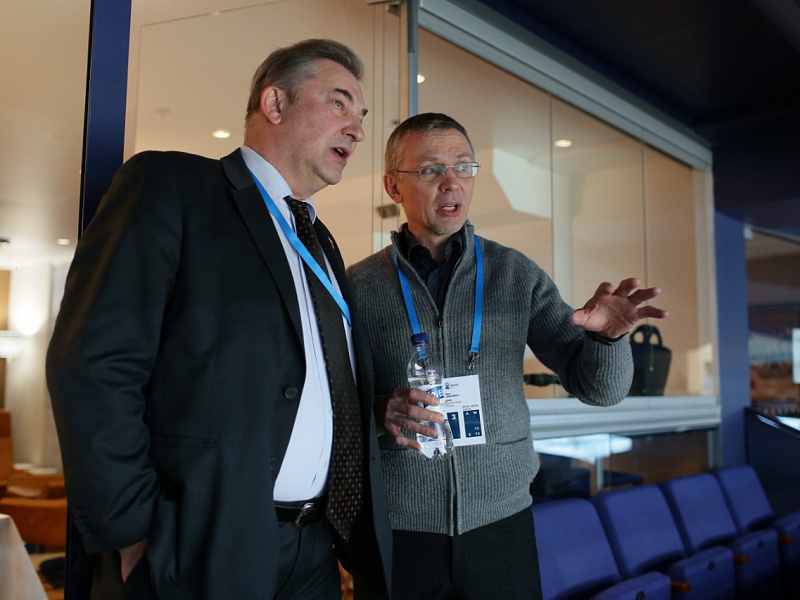 Double Olympic champion, four-time world champion and triple Stanley Cup champion Igor Larionov has been appointed the Advisor to the General Manager of the Russian national team.

As a part of his responsibilities, Larionov will work with national teams of all ages, while introducing and improving the Red Machine National Development Program. Larionov will give recommendations on how to develop young players and take part in training camps which have been organised by Russia Hockey. The specialist will watch and analyse matches in which candidates for Russian national teams are playing.

The Advisor to the General Manager will draw conclusions, put together analytical reports concerning coaches' work while also making suggestions for sporting events which can improve the individual training process of individual players and the team training process.

Advisor to the General Manager of the Russian national team, Igor Larionov:

- The main reason why I decided to sign an agreement with Russia Hockey is my desire to use my experience which has built up. I have a lot of thoughts and different ideas about how to improvement the development of Russian ice hockey and assist the progression of young players. Their progress is the main task which the federation gave me. This concerns working with the national teams and various ways of implementing the national development program. The first major tournament in which I will participate is the World Junior Championship in the Czech Republic. This is a big competition for world ice hockey, one of the most important in the season. I will have a busy travelling schedule in the next three months as I look at players on both sides of the ocean. A lot of work is coming.

General Manager of the Russian national team, first Russia Hockey vice-president Roman Rotenberg:

- We are happy to officially reveal the start of our cooperation with Igor Larionov. I want to note that it isn't starting today, it is continuing over the course of many years. Igor has a wide range of responsibilities, with the main ones being analysing the coaches' work, analysing matches, extra work with pkayers at training camps and specialised training sessions and promotion and improvement of the Red Machine National Development Program. Among other matters, Igor will be the ambassador of Russian ice hockey in different countries. For Russia Hockey, the cooperation with Igor Larionov brings the generations together and creates an opportunity to add valuable world ice hockey experience. He is a witness and participant of our national team's previous triumphs, and he with a number of great coaches such as Viktor Tikhonov and Scotty Bowman. Igor is always improving, studying how the training process in sport is undertaken in different countries and world-famous clubs such as Liverpool, Real Madrid and Barcelona. I note that Larionov is suspending his activities as an agent. Igor's interests have long been the same as ours and now the time has come to work together.

Russia Hockey President, Vladislav Tretiak:

- The Russian Ice Hockey Federation is happy to invite a legendary person to hold such a responsible position. Igor Larionov has plenty of knowledge and experience, he knows world ice hockey, modern tendencies, the sport's development and training methods very well. I am sure that his desire to use his knowledge, his desire to work, grow and develop players will help both the National Development Program and the development of our national teams.