ALL NEWS
Russian national team presentation for the 2019 World Championship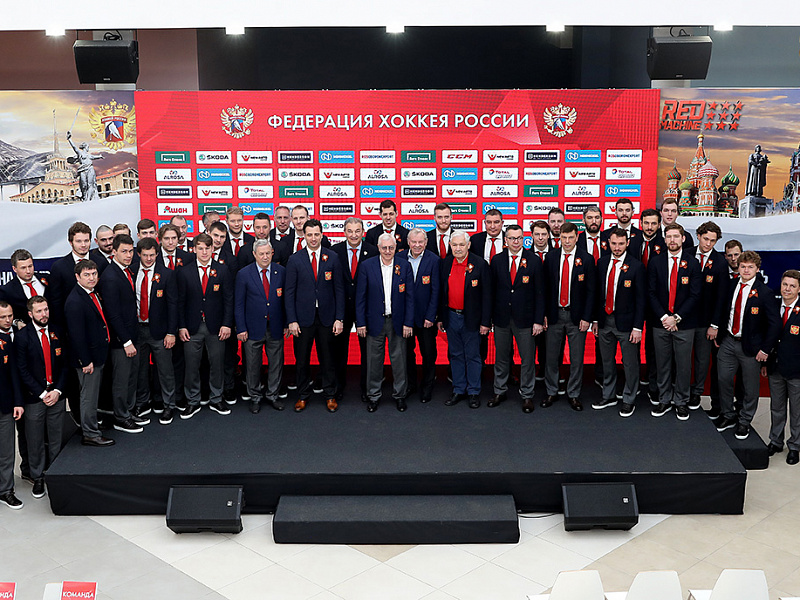 In Moscow, the senior Russian national team participated in the presentation for the upcoming 2019 IIHF World Championship in Slovakia, with veterans Boris Mikhaylov, Boris Mayorov, Vladimir Yurzinov and Igor Tuzik all speaking at the event.

Russian Ice Hockey Federation president Vladislav Tretiak:

- I told the entire team, all of the guys, that there are no weak opponents at the World Championship. You can only judge your opponent after you've claimed a victory. For us, every match is a final and a test of our strength. The coaches will tell the players what they need to do. The team must be prepared to play excellent ice hockey.

Russian Ice Hockey Federation first vice-president, national team leader Roman Rotenberg:

- Today, we revealed and presented our national team which will compete at the 2019 IIHF World Championship. At this moment in time, these are our country's best players. On paper, this is our best team, and it's time to show this on the ice. The national team's management is continuing to work hard every day. As our legends said, our team will improve and become stronger every day. This year, our slogan is "Russia Is With Us." This has been created in order to unite the team and the fans, 147 million of them. There is a brotherhood within this team. The players, together with their wives, are one big family. We will do everything so that the wives and their children were comfortable in the stands and felt at home.

Russian national team head coach Ilya Vorobyov:

- In preparation for the World Championship, we have played seven matches, and we have trained well. We're only looking forward. Yes, we have plenty of talented players, but we want to play a team game. Ilya Kovalchuk is our captain, with Alexander Ovechkin and Sergei Plotnikov being the assistant captains. We only have four centre forwards? Mikhail Grigorenko can play in that position too. Andrei Vasilevskiy will be the starting goalkeeper for the first game.