ALL NEWS
Euro Hockey Tour. Sweden - Russia - 6:4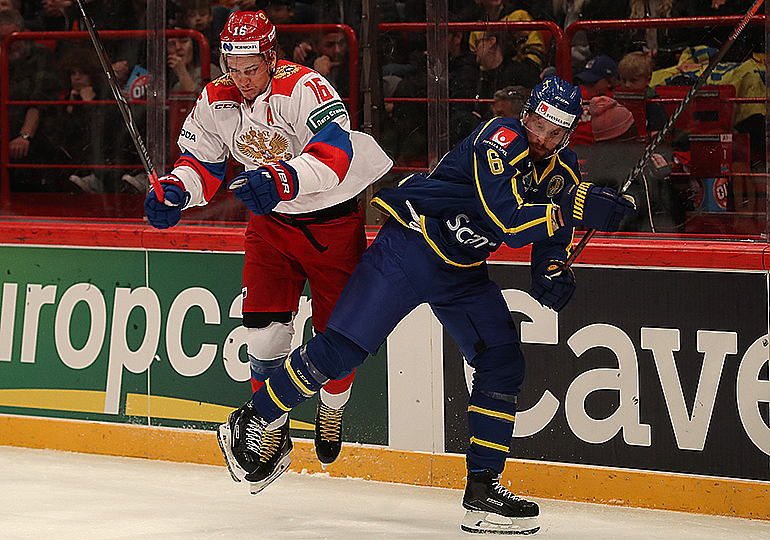 In the first match of the concluding 2018/2019 Euro Hockey Tour stage, the senior Russian national team conceded a 4:6 loss to Sweden in Stockholm.

Sweden took the lead early on, but with the first period approaching its conclusion, defenseman Alexander Elesin thumped in a powerful slap shot from the right faceoff circle to draw the visitors level.

However, the opponents pulled away in the second, as they netted three markers with two of them arriving on the powerplay. Sergei Andronov conjured up a response for Russia.

Loui Eriksson increased the Swedish lead to 5:2 at the start of the third frame. Not long later, Mikhail Grigorenko tipped an attempt beyond the goalkeeper, but Mario Kempe then hit the empty net after Andrei Vasilevskiy had been pulled for the extra skater. Nikita Kucherov had the last word with a clever goal from a tight angle, but it didn't save Russia from a 4:6 defeat.

Match protocol:

Sweden - Russia - 6:4 (1:1, 3:1, 2:2)

Goals:

1:0 Nygard (Bratt), 02.37
1:1 Elesin (Gusev, Malkin), 18.08
2:1 Eriksson (Lander, Pettersson), 20.57
3:1 Kruger, 23.04
3:2 Andronov (Gusev, Zernov), 30.54
4:2 Lindblom (Bratt, Pettersson), 38.17
5:2 Eriksson (Lander, Pettersson), 46.37
5:3 Grigorenko (Barabanov, Anisimov), 49.58
6:3 Kempe (Eriksson, Lander), 57.52
6:4 Kucherov (Sergachyov, Kaprizov), 59.26

Shots on target: 38 - 23

Penalty minutes: 4 - 16

01.05.2019.