ALL NEWS
Reaction after beating Switzerland at home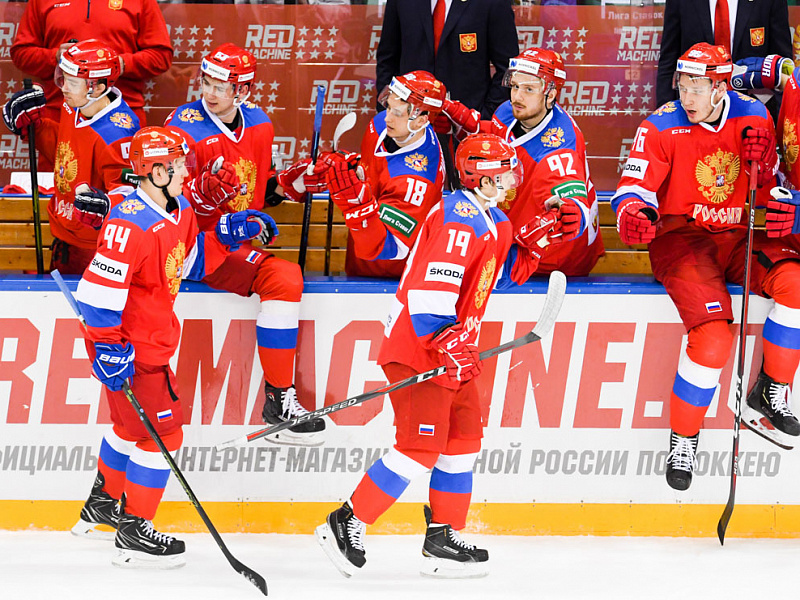 Head coach of the senior Russian national team Ilya Vorobyov, forward Vladimir Tkachyov and goalkeeper Alexander Georgiev shared their opinions on the 5:1 victory against Switzerland at the Euro Hockey Challenge.

Head coach of the senior Russian national team Ilya Vorobyov:

- The guys did a good job today. Three legendary Soviet ice hockey players are celebrating their birthdays, so we wanted to give them a gift. Our squad for the World Championship? It's too early to speak about that, we have two more Euro Hockey Challenge matches and three in the Euro Hockey Tour. Why didn't Albert Yarullin play? We wanted to look at different players. We decided to give goalkeeper, Alexander Georgiev a chance to acclimiatize.

Senior Russian national team forward Vladimir Tkachyov:

- Yes, today I managed to score goals, but this wouldn't have been possible without the help of my teammates. We played well and gained the victory. In my opinion, the first match was tougher, because we hadn't played for a long time. It took time to warm into the game. I dedicate this game to Vyacheslav Fetisov, Alexander Maltsev and Viktor Shalimov.

Senior Russian national team goalkeeper Alexander Georgiev:

- Personally, I would like to play better with the puck on my stick, but the ice size and rebounds here are different. Am I disappointed that I didn't tally a shutout? Yes, but these things happen. The main thing is that we controlled the game and won. We wanted to give our legends celebrating their birthdays a present and we're happy that we did just that.