ALL NEWS
2019 World Championship. Latvia U18 - Russia U18 - 1:5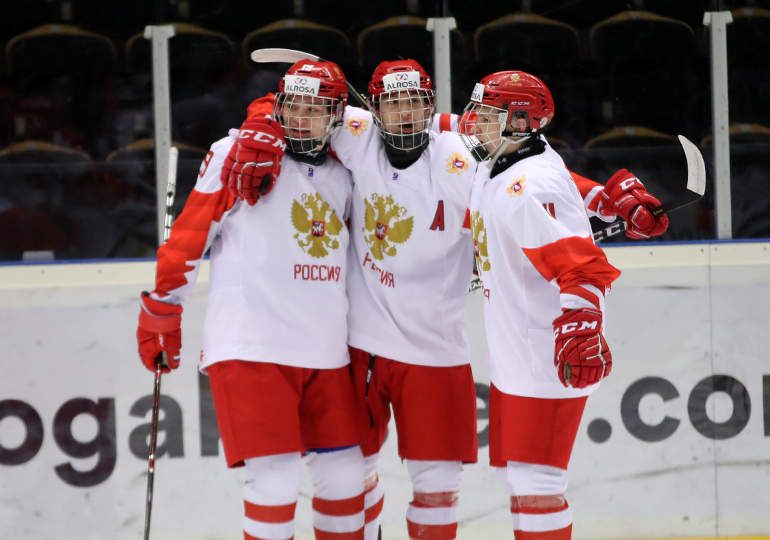 In the second match of the 2019 IIHF World Championship, the under 18 Russian national team eased past the Latvian challenge, claiming a 5:1 victory in Sweden.

Maxim Groshev initially gave Russia the lead, but early in the second frame, Latvia notched an equaliser with Raivis Ansons hitting the target.

Nevertheless, five minutes after conceding, Semyon Chistyakov scored his maiden goal of the competition to reinstate Russia's advantage. Late in the second stanza, Dmitry Sheshin made it 3:1, before Rodion Amirov and Takhir Mingachyov rounded off proceedings with further markers in the third.

The next game will take place on April 21 against the USA. Puck drop is scheduled for 16:30 Moscow time.

Match protocol:

Latvia U18 - Russia U18 - 1:5 (0:1, 1:2, 0:2)

Goals:

0:1 Groshev (Bryzgalov), 13.35
1:1 Ansons (Polcs), 26.21
1:2 Chistyakov (Nikolaev, Amirov), 31.58
1:3 Sheshin (Gushchin), 32.49
1:4 Amirov (Nikolaev), 59.40
1:5 Mingachyov (Groshev), 59.48

Goalkeepers: Marcinkevics - Askarov

Shots on target: 15 - 44
Penalty minutes: 8 - 8

20.04.2019.