ALL NEWS
National Team Opened Doors day was held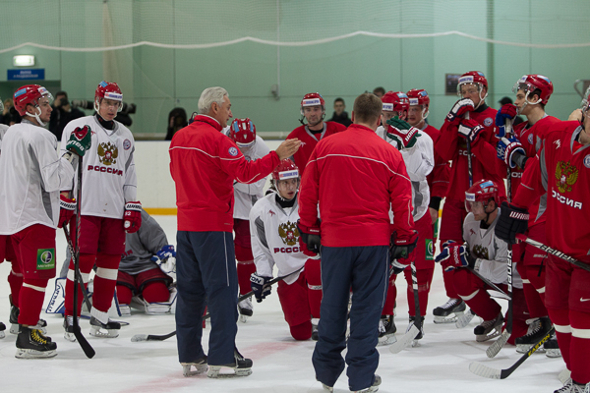 National Team Opened Doors day in anticipation of Karjala Cup was held at "Novogorsk" November, 7. Ice training was held under guidance of coaching staff headed by Zinetula Bilyaletdinov. Team trained in the following lines' combinations:
Alexandrov – Nikulin, Popov – Tereschenko – Perezhogin;
Ryasenski – Kiselevich, Averin – Kablukov (Prohorkin) – Glukhov;
Chudinov – Medvedev, Tikhonov – Shipachyov – Lisin;
Biryukov – Zubarev, Panarin – Burmistrov – Varnakov.
Goalkeepers: Barulin, Yeremenko.
Work session was held in intensive way, players quite seriously treated the goals that stood for them. After that Zinetula Bilyaletdinov and hockey players answered numerous journalists' questions.
Today team in this line-up is going to Helsinki where on Thursday holds the first game against tournament hosts – Suomi hockey players.