ALL NEWS
U20 Junior Team opened training was held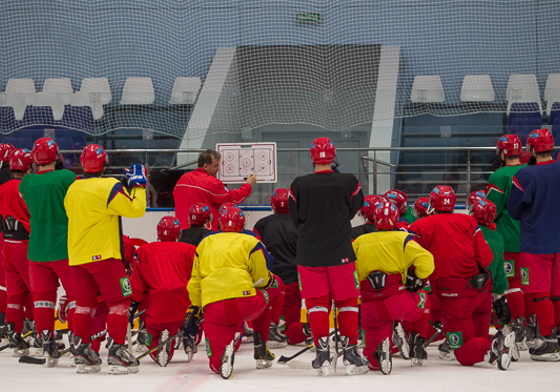 Opened training in advance of the Four Nations Tournament was held at "Novogorsk" training base.
Team worked in following lines' combinations:
Goalkeepers: Vasilevski, Ustinski, Shestyorkin
Blue: Slepyshev – Barabanov – Buchnevich, Mironov – Bereglazov;
Black: Zhafyarov – Osnovin – Skladnichenko, Lyubushkn – Tryamkin;
Yellow: Voronin – Busarov – Shixatdrov, Maslov – Vasiliev;
Green: Gimatov – Yakimov – Khlopotov, Yudin – Koryagin;
Red: Tkachyov – Petrakov – Baskov, Tikhonov – Ogurcov
After ice training Head Coach Mikhail Varnakov talked on importance of the forthcoming tournament in terms of candidates reviewing for December World Championship in Sweden.
- Now there appeared many players whom we want to see in action. Unfortunately, not all the guys will be able to come to Canada to participate in the Subway Super Series in order to show themselves in games, so we will watch them here in games with European Teams.