ALL NEWS
Interviews after winning the 2019 Winter Universiade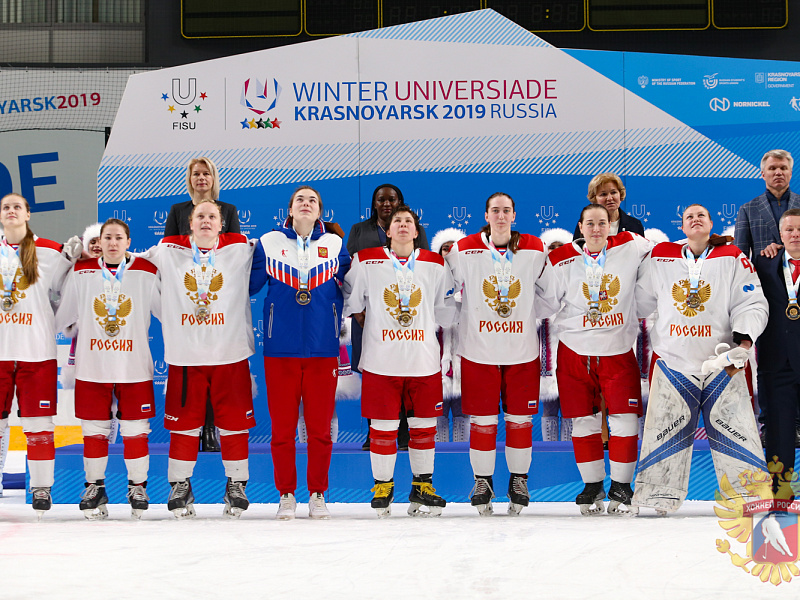 Vladislav Prodan, Alexei Chistyakov, Anna Shibanova, Liana Ganeeva and Nadezhda Morozova spoke about winning the 2019 Winter Universiade in Krasnoyarsk.

Russian women's student national team head manager Vladislav Prodan:

- It was a tense match against Canada, but we managed to win the gold medals. You can say that the Universiade was an important part of the preparations for the upcoming 2019 World Championship in Finland, in which a number of players from this team will compete. There are a number of issues which require improvement. We played in front of our home fans and it was very important to win here. The tournament was organised excellently.

Russian women's student national team head coach Alexei Chistyakov:

- It was a tough match against a committed opponent which tried as hard as it could. Our players were nervous at first, but after the first period in which we unleashed 20 shots on goal, we started playing better. Nadezhda Morozova also made some big saves in the second frame. I think it was a great final.

Russian women's student national team defender Anna Shibanova:

- We knew that the final would be difficult. It was a different match than in the group stages, and we knew this would be the case. We will now go into the dressing room and celebrate the victory.

Russian women's student national team defender Liana Ganeeva:

- It feels fantastic to win. Now, I feel tired, but the emotion of winning helps with that. My teammates blocked the goalkeeper's view for my goal so thank you to them for that. It's another medal, and all tournaments are important. We always want to follow the coach's game plan at every competition.

Russian women's student national team goalkeeper Nadezhda Morozova:

- The opponents piled the pressure on, especially in the third period, so thank you to the skaters for helping me out. Thank you to the coaches as well for trusting me. I have to stay calm so that the other players don't start worrying. The atmosphere at the Kristall Arena was incredible! We appreciate the fact that the fans made it a sell out.