ALL NEWS
Reaction after playing Sweden in the Euro Hockey Tour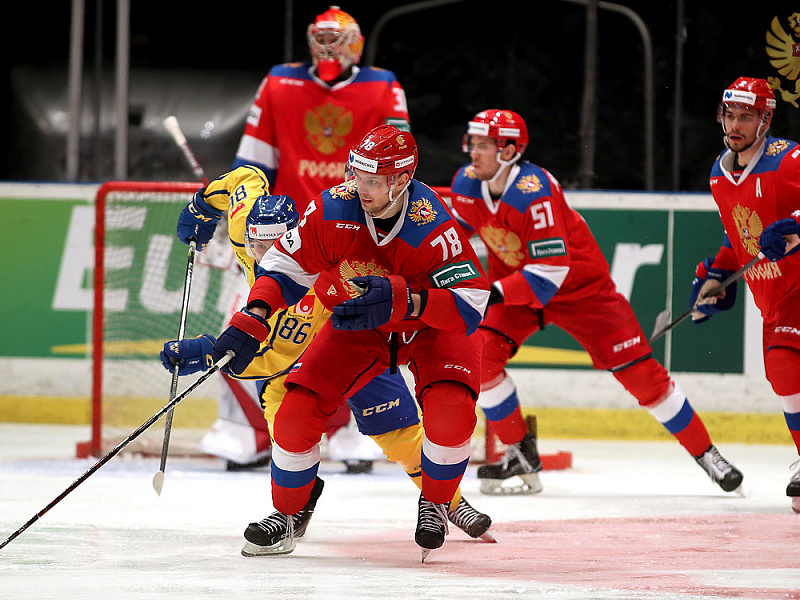 After losing 2:4 to Sweden in the third stage of the 2018/2019 Euro Hockey Tour, Russian national team head coach Ilya Vorobyov and forwards Ilya Mikheev and Anatoly Nikontsev shared their opinions.

Russian national team head coach Ilya Vorobyov:

- At this level, you have to take advantage of the opportunities which came our way in the first two periods. Our powerplay should have been better. Tomorrow, Ilya Konovalov will play between the pipes. The main difference between the Euro Hockey Tour and the KHL? Here, at international level, the speed of the game is higher. You have to make decisions that bit quicker. Ilya Mikheev has scored three goals in two matches so he's performing well. In terms of quality, the Czechs have the best team at this tournament, even if Jan Kovar and Jiri Sekac won't play tomorrow.

Russian national team forward Ilya Mikheev:

- It's good that we managed to recover fr om being 0:2 down, but immediately after equalising, we conceded another. We have to get rid of the mistakes which keep appearing in our game. We will analyse the Czechs and prepare for the next match.

Russian national team forward Anatoly Nikontsev:

- In my line, Vadim Shipachyov and Dmitry Kagarlitsky tell me wh ere to skate, they have been playing together for quite a while but I feel that we gained mutual understanding. It's really nice to play for the senior Russian national team and I'm trying to show my best ice hockey. We managed to score after changing our powerplay unit.