ALL NEWS
2019 World W18 Championship. Canada - Russia - 4:3 OT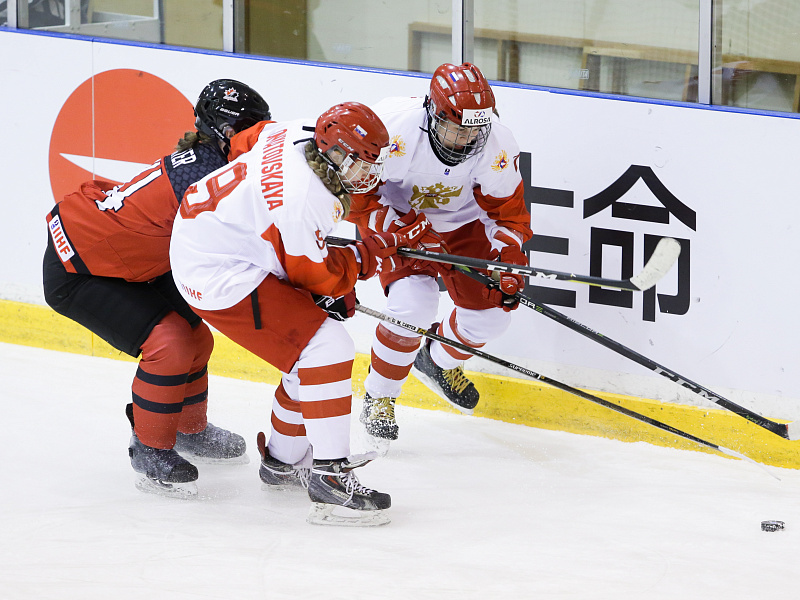 Unfortunately, the under 18 Russian women's national team couldn't pull off a huge upset against Canada in the semi-finals of the 2019 IIHF World W19 Championship, losing 3:4 in overtime.

Anna Savonina gave Russia a lead in the first period, before the Canadians replied with two of their own. Nevertheless, Ilona Markova then made it 2:2, and after Canada gained another advantage, Elena Provorova equalised in the third frame to take it to overtime.

Sadly, on the powerplay, Canada scored 44 seconds into the extra period to clinch a 4:3 victory. Russia will take on Finland on December 13 in the third place playoff.

Match protocol:

Canada W18 - Russia W18 - 4:3 (1:1, 2:1, 0:1, 1:0)

Goals:

0:1 Savonina (Luchnikova), 09.03
1:1 Kelly (Trevors, MachEachern), 11.49
2:1 Guay (Wheeler, Calabrese), 21.28
2:2 Markova (Savonina, Volf), 27.46
3:2 Gosling (Guay), 39.36
3:3 Provorova (Shkalyova, Markova), 51.51
4:3 Serdachny, 60.44

12.01.2019.