ALL NEWS
Reaction after beating Slovakia at the 2019 World Junior Championship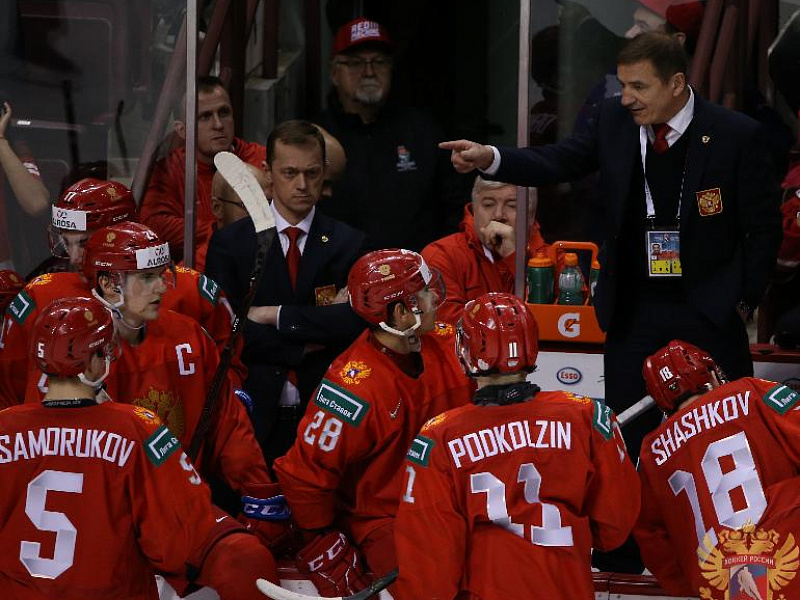 After defeating Slovakia at the 2019 IIHF World Junior Championship, under 20 Russian national team head coach Valery Bragin, defensemen Dmitry Samorukov and Alexander Romanov, and forwards Klim Kostin and Vasily Podkolzin shared their opinions.

Russia U20 head coach Valery Bragin:

- We lost a lot of emotions during the victory. In the quarter-finals, you either stay until the end of the competition, or pack your bags to travel home. We found it difficult starting the game, but after scoring our goals, we improved. Nevertheless, we want our players to play more calmly in their own zone. How is Vitaly Kravtsov? He's fine, we simply gave him time to rest. Klim Kostin did well today with his goals, he's having opportunities in every game. I think Pyotr Kochetkov will continue playing between the pipes.

Russia U20 defenseman Dmitry Samorukov:

- Towards the end of the game, we started to relax, but the result is a positive one for us. Against the Americans, the smallest details will decide the outcome of the match. Like today, we have to play the game with a good mentality which will allow us to be successful.

Russia U20 defenseman Alexander Romanov:

- Yes, the score is big, but we had to work hard. The opponents had a lot of shots and created plenty of chances. Moving forward, all of our thoughts are about the upcoming match against the USA.

Russia U20 forward Klim Kostin:

- If I didn't have these teammates, I wouldn't have scored my goals. In the final moments, we tried to score more goals, and in doing so we forgot about defence and Slovakia punished us. We will prepare for the Americans like we would for any other opponent.

Russia U20 forward Vasily Podkolzin:

- Our quick goals in the first period allowed us to take control of proceedings. We will play the USA in the semi-finals? That was to be expected. We will give everything to win!