ALL NEWS
Evgeny Romasko: "If both teams thank you for your work, you've done a great job"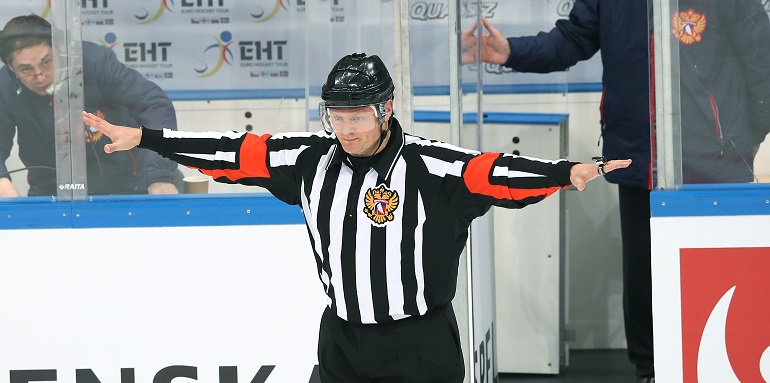 In an interview with the Russian Ice Hockey Federation, referee Evgeny Romasko shared secrets of the job after refereeing top level matches for a number of years.
Referee Evgeny Romasko:
"I was a referee at the 2013 U18 World Championship and at the 2014 World Junior Championship. In Canada, this will be my second World Junior Championship. At the moment, I'm in the list of candidates to officiate matches at the 2019 senior World Championship in Slovakia, and the final decision for that competition will probably be based on our performances at the World Junior Championship in December and January. I knew that I had been picked for the 2019 World Junior Championship at the start of the season after the International Ice Hockey Federation (IIHF) congress. At the tournament, it's very important to keep a cool head as a referee, because the players compete with real passion. They are the ice hockey stars of tomorrow. To be honest, it's easier to predict what will happen in senior ice hockey matches, you have to be ready for anything when working over junior matches.
I was the first Russian referee in history to work in the NHL. Plenty of people ask me about how I became a top level referee, but my answer is always the same: if you love your job and gain positive emotions from what you do, you will be successful. Once, I refereed over 100 matches in a season (57 in the USA, 38 in the KHL), and the key is to stick to a healthy diet.
After matches, the losing team often has complaints with your officiating, but if both clubs skate over to you and extend their thanks for your refereeing, you know that you've done a great job."
Read the full version on the
Russian language version of fhr.ru
.