ALL NEWS
2018 Channel One Cup. Russia – Finland – 5:0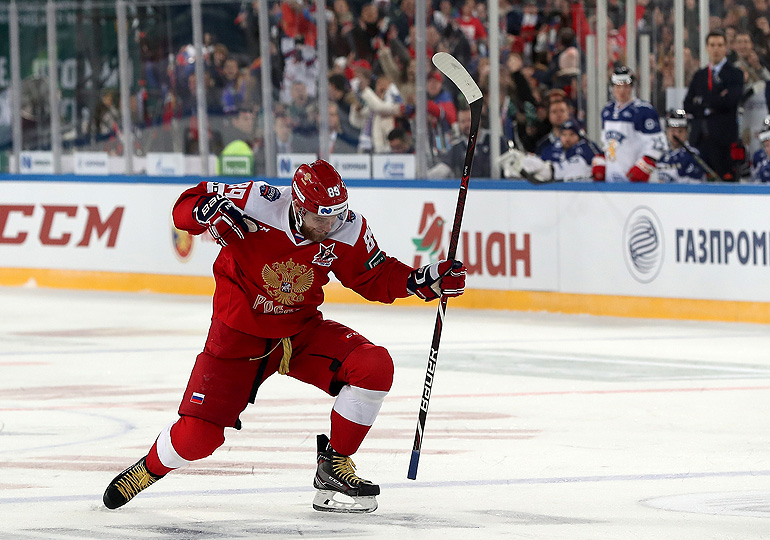 In Saint Petersburg, the senior Russian national team took on Finland in the concluding match of the 2018 Channel One Cup match, with the Hockey Classic game taking place at the large Gazprom Arena. Head coach Ilya Vorobyov included Nikita Nesterov, Artyom Blazhievskiy, Mikhail Grigorenko, Andrei Loktionov and Kirill Kaprizov in the first line, while Igor Shestyorkin was given a start between the pipes, Joni Ortio was the goalkeeper for Finland.
There was a celebratory atmosphere inside the packed Gazprom Arena, but in the opening stages, it was Finland playing with the initiative. After an early powerplay, the visitors continued to press the Russians, creating plenty of promising opportunities. Igor Shestyorkin was much the busier goalkeeper, but with the frame entering its final minute, Russia opened the scoring with their first chance of note. Young forward Kirill Kaprizov was the hero, collecting the loose puck and whipping it beyond the stricken Joni Ortio.
Russia improved greatly in the second period. On the powerplay, SKA Saint Petersburg defenseman Vasily Tokranov struck gold with a superb slap shot, before Nikita Nesterov repeated the trick four minutes later with another Finnish player sitting in the penalty box. Completely in control of proceedings, our players registered 10 shots on goal in the frame compared to Finland's three, and Vladislav Gavrikov increased the lead to four when connecting with Alexander Barabanov's intelligent pass on the left faceoff circle.
With the outcome of the game practically sealed, the tempo naturally dropped in final set of 20 minutes. The visiting Finns attempted to create intrigue, but every time when they were presented with an ideal opportunity in the Russian zone, Igor Shestyorkin refused to let them get on the board. Mikhail Grigorenko grabbed his goal from the slot in the closing stages, in turn completing a resounding 5:0 victory against Finland at the Gazprom Arena!
As a result of this 5:0 win, Russia have claimed the 2018 Channel One Cup with three victories in as many matches!
Match protocol:
Russia – Finland – 5:0 (1:0, 3:0, 1:0)
Goals:
1:0 Kaprizov (Grigorenko, Elesin), 19.03
2:0 Tokranov (Gusev, Plotnikov), 25.28
3:0 Nesterov (Kuzmenko), 29.25
4:0 Gavrikov (Barabanov, Tokranov), 30.10
5:0 Grigorenko (Shalunov, Blazhievskiy), 54.39
Goalkeepers: Shestyorkin – Ortio
Shots on target: 28 – 22
Faceoffs: 38 – 25
Penalty minutes: 6 – 8
16.12.2018. Gazprom Arena, Saint Petersburg.