ALL NEWS
2018 Channel One Cup. Russia - Czech Republic - 7:2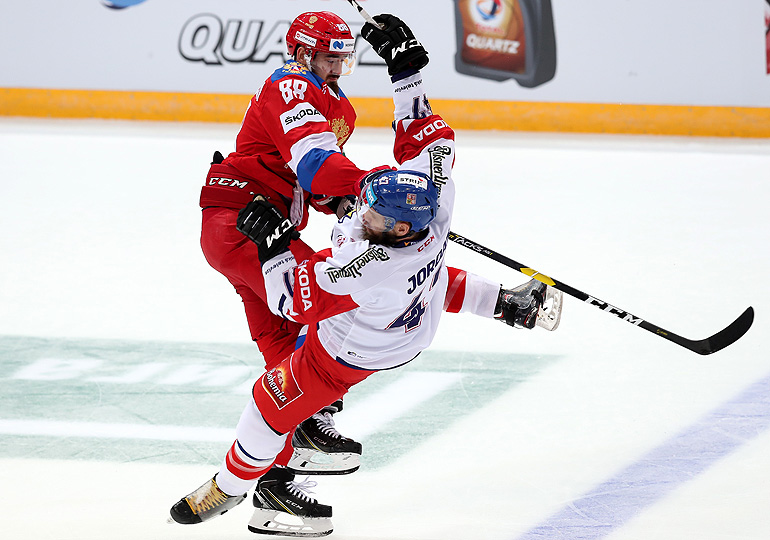 In Moscow, the senior Russian national team took on the Czech Republic in the second match of the 2018 Channel One Cup. Head coach Ilya Vorobyov made a handful of changes, notably giving HC Ak Bars Kazan defenseman Andrei Pedan a chance in the fourth line. Ilya Sorokin kept his place in net while Dominik Furch started between the pipes for the Czech Republic.
Both teams came flying out of the blocks inside a sold-out Legends Park. On the powerplay, defenseman Vasily Tokranov blasted a heavy one timer beyond Dominik Furch, but moments later, Dominik Kubalik tipped Ondrej Nemec's slap shot into the net. Nevertheless, with yet another man's advantage, Nikolai Prokhorkin thumped a strong effort in from the right faceoff circle to promptly hand Russia a second lead. Losing their discipline, the Czechs contrived to gift our team a 5 on 3 powerplay late in the frame, however excellent goalkeeping kept the difference at one.
Russia pulled away in the second period with a wonderful display of attacking strength. Three minutes into the frame, Andrei Loktionov caught Dominik Furch cold with a sharp attempt directly off a faceoff draw, before Kirill Kaprizov jammed the puck over the line at point blank range. The referees reviewed Kirill's goal for 10 minutes on video, but after studying the evidence, they eventually ruled it a good goal. Tricky, talented forward Andrei Kuzmenko then registered a superb fifth with a flashy individual effort.
Andrei Kuzmenko wasn't finished there either. Early in the third, the SKA Saint Petersburg representative took aim from the doorstep, wristing over the shoulder of Simon Hrubec who had replaced Dominik Furch in the break. Shorthanded, Dominik Kubalik got one back for the Czechs, but Andrei Loktionov rounded things off on the powerplay with his second and Russia's seventh! Russia defeat the Czech Republic 7:2 and will now travel to Saint Petersburg to play Finland on Sunday. The match is scheduled for 17:00 local time.
Match protocol:
Russia – Czech Republic – 7:2 (2:1, 3:0, 2:1)
Goals:
1:0 Tokranov (Gusev, Plotnikov), 04.16
1:1 Kubalik (Nemec), 05.08
2:1 Prokhorkin (Gusev, Plotnikov), 07.48
3:1 Loktionov (Grigorenko), 23.40
4:1 Kaprizov (Grigorenko, Nesterov), 32.09
5:1 Kuzmenko (Kablukov), 37.07
6:1 Kuzmenko, 42.27
6:2 Kubalik, 53.02
7:2 Loktionov (Gusev, Tokranov), 56.06
Goalkeepers: Sorokin – Furch/Hrubec
Shots on target: 33 – 18
Faceoffs: 30 – 23
Penalty minutes: 18 – 51
15.12.2018. Legends Park, Moscow.