ALL NEWS
Reaction after defeating Sweden at the 2018 Channel One Cup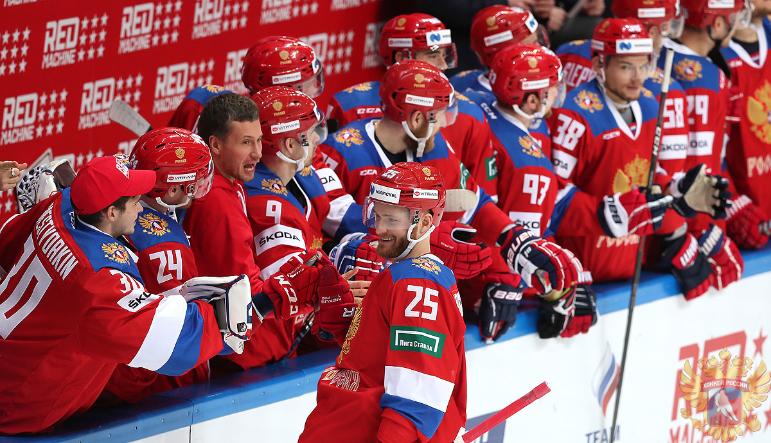 Following the thrilling 3:2 penalty shootout victory against Sweden at the 2018 Channel One Cup in Moscow, senior Russian national team head coach Ilya Vorobyov, forward Mikhail Grigorenko, defenseman Vladislav Gavrikov and goalkeeper Ilya Sorokin shared their opinions.

Russian national team head coach Ilya Vorobyov:

- The first period good, but the second wasn't. We heroically saved the game and it's good that there was a Hollywood ending. Why did all of this happen? Sweden scored twice and we had to make a comeback. We aren't searching for excuses, we will continue to work.

Ivan Telegin has an injury and the doctors will soon tell us whether he can participate at this tournament. At the moment, we're not planning on calling anyone up from the Russian Olympic national team. Sweden are a strong team, they moved well. Did we manage to increase the tempo in the third period? Yes. We haven't revealed which goalkeeper will play against the Czech Republic.

Russian national team forward Mikhail Grigorenko:

- We tried hard and we knew that we were playing in front of our fans. I had a lot of friends attending the match. The fans supported us and we had to equalise in the third period. In the first two periods, we were lacking speed, and we often lost the puck to the opponents. Nevertheless, in the third, we pressed and managed to score our goals. Ilya Sorokin was our best player. What do I expect against the Czech Republic? We lost to them at the Karjala Cup, so we need to gain revenge. They have a good team.

Russian national team defenseman Vladislav Gavrikov:

- For my goal, I received the puck, and shot it into the top corner. We didn't expect an easy game. Our start was poor, we didn't control the puck well in the first period, but things improved in the second and we got closer to the opponents' goal. Sweden couldn't cope with our pressure in the third frame. Ilya Sorokin made two huge saves in overtime, he was the difference. Thank you to the fans for the support, it's great to play inside a sold out stadium. We need to start matches in the same way we finished today's.

Russian national team goalkeeper Ilya Sorokin:

- I didn't have much work to do during regulation. As a result, I had plenty of energy for the extra frame. My saves gave the team energy and we managed to win. Have I stopped five penalty shots on a regular basis in my career? It's happened before. This is a very important victory for our character. We weren't in great shape after the second period, but we recovered. We treated the third period like a new game. What was spoken in the dressing room between the second and third frames? We calmly analysed the match and prepared.