ALL NEWS
Russia U20 open training before the World Junior Championship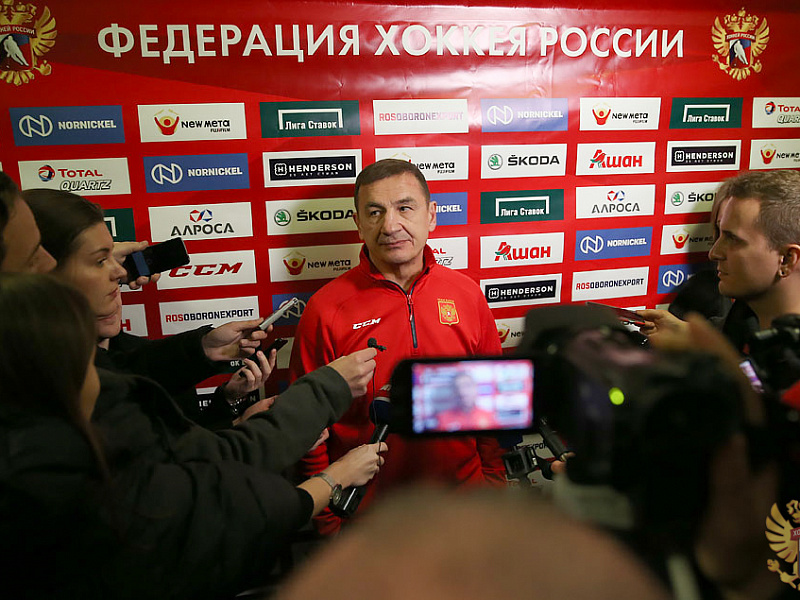 Ahead of the upcoming 2019 IIHF World Junior Championship, the under 20 Russian national team head coach Valery Bragin spoke to the media at an open training session.

The players trained in these following lines:

Goalkeepers: Miftakhov, Tarasov, Kochetkov.
Whites: Zhuravlyov, Olshanskiy - Yaremchuk, Shen, Starkov.
Blues: Khabarov, Rubinchik - Muranov, Galimov, Slepets.
Reds: Morozov, Romanov - Denisenko, Kravtsov, Kovalenko.
Greens: Kalabushkin, Valitov - Marchenko, Kanitskiy, Nikolaev.
Oranges: Malyshev, Volkov - Tsitsyura, Morozov, Shashkov.

Russia U20 head coach Valery Bragin:

- What is Oleg Znarok's role within the team?

- He is the consultant for all Russian national teams. His charisma helps everyone alongside his positive energy. He will travel to Canada, however he won't be on the bench during matches.

- Vitaly Kravtsov received an injury in the last match with Traktor Chelyabinsk in the KHL. How is he?

- He's fine.

- Will he continue playing down the middle?

- Vitaly performed well there during the Four Nations tournament. He feels comfortable there. Vitaly is a great reader of the game. If he sticks to his defensive tasks too, he will play.

- Why didn't you call up Dmitry Zavgorodniy?

- We already have a lot of players for his position within the team. He's not a player for the fourth line because he doesn't play on the penalty kill.

- When will you make a final decision on the 2019 IIHF World Junior Championship roster?

- After the final friendly match against Switzerland. Are the players which play in North America guaranteed a place in the side? No, only 3-4 players can feel comfortable.