ALL NEWS
2018 Karjala Cup. Czech Republic - Russia - 5:2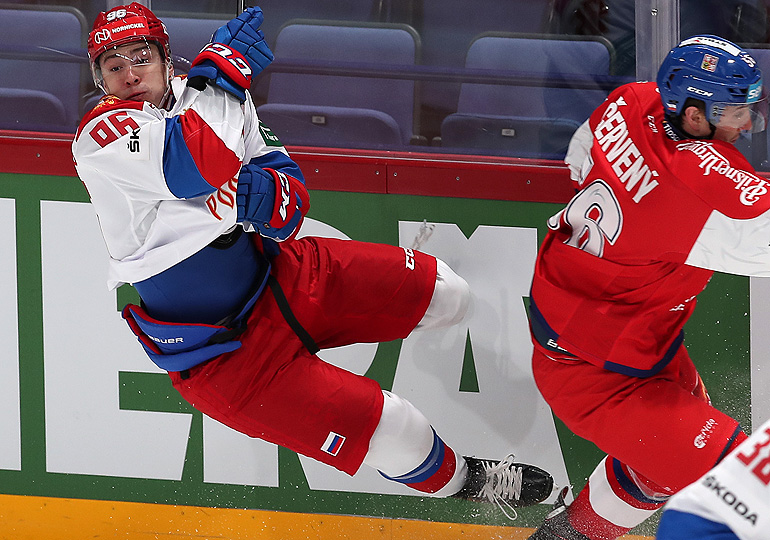 In the concluding match of the 2018 Karjala Cup, the senior Russian national team lost to the Czech Republic 2:5, however the result didn't prevent our players from winning the competition.

After the first period reached its conclusion, Russia held a 2:1 advantage after goals from Kirill Kaprizov and Alexei Vasilevskiy, but the Czechs had scored through Michal Repik and weren't done there.

In a horrible second frame, two markers scored by Dominik Kubalik had handed the Czech Republic a surprise lead, before the same player completed his hat trick with an empty netter in the final stanza and Radovan Pavlik also hit the target with Ilya Sorokin pulled for the extra skater.

Nevertheless, despite this loss, Russia hold the title of the 2018 Karjala Cup winners!

Match protocol:

Czech Republic - Russia - 5:2 (1:2, 2:0, 2:0)

Goals:

0:1 Kaprizov (Nesterov, Vasilevskiy), 02.45
1:1 Repik (Horak, Cerveny), 11.28
1:2 Vasilevskiy (Grigorenko, Kaprizov), 16.08
2:2 Kubalik, 21.16
3:2 Kubalik (Stencel, Doudera), 33.40
4:2 Pavlik (Repik), 58.59
5:2 Kubalik (Horak), 59.27

Goalkeepers: Bartosak - Sorokin

Shots on target: 21 - 23

Penalty minutes: 24 - 4

11.11.2018.