ALL NEWS
2018 Karjala Cup. Sweden - Russia - 1:4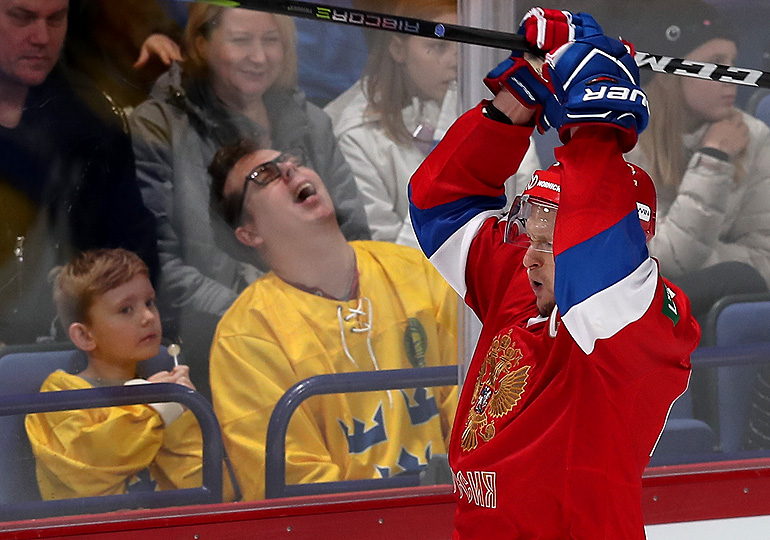 In the second 2018 Karjala Cup match, the senior Russian national team eased past the challenge of Sweden, claiming a confident 4:1 victory to make it two wins in as many games.

After a goalless first period, Russia took the initiative in the second, as Andrei Kuzmenko hit the jackpot from point blank range and Evgeny Ketov beat SKA Saint Petersburg teammate Magnus Hellberg when clean through shorthanded.

In the third frame, the Swedes got on the board with a marker from Jakob Lilja, but Andrei Kuzmenko grabbed another and Andrei Loktionov hit the empty net in the dying moments to seal a large 4:1 triumph.

Tomorrow, on Sunday, the team will play the Czech Republic in the final Karjala Cup game of the 2018/2019 season.

Match protocol:

Sweden - Russia - 1:4 (0:0, 0:2, 1:2)

Goals:

0:1 Kuzmenko (Barabanov, Khafizullin), 30.48
0:2 Ketov, 38.40
1:2 Lilja (Bengtsson, Persson), 45.18
1:3 Kuzmenko (Byvaltsev, Shalunov), 50.04
1:4 Loktionov (Telegin, Byvaltsev), 58.11

Goalkeepers: Hellberg - Shestyorkin

Shots on target: 31 - 32

Penalty minutes: 12 - 12

10.11.2018.