ALL NEWS
"From a Pure Heart" charity match. Reds - Blues - 10:8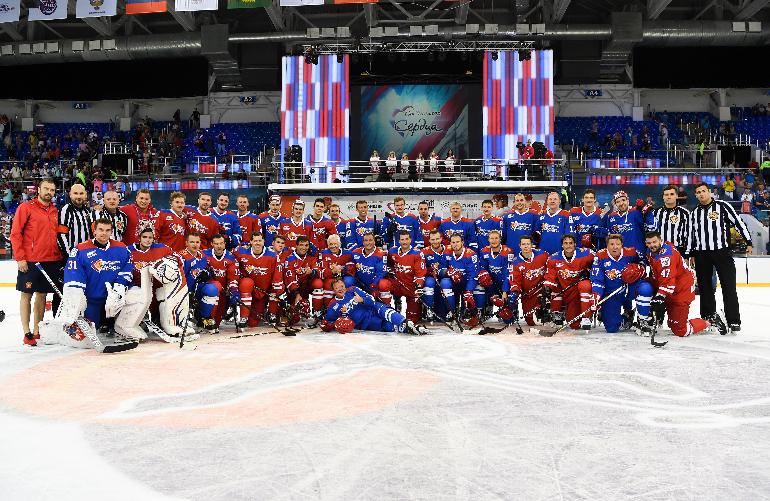 At the Shayba Arena in Sochi, the yearly "From a Pure Heart charity match took place with the Reds defeating the Blues 10:8.

2018 Olympic champions participated in the match alongside world ice hockey stars such as Evgeny Malkin, Valery Kamensky, Teemu Selanne, Jari Kurri and many others. Russian Federation sports minister Pavel Kolobkov participated and the Russian Ice Hockey Federation was represented by first vice-president and senior national team leader Roman Rotenberg.

Before the match started, deputy chairman of the Tula Region government Marina Levina was presented with a cheque for 20 million rubles which will go towards the oncology department of a children's hospital.

Every season, the "From a Pure Heart" charity game is held in Russian cities over the past eight years. In 2010, the first match at the Sokolniki Arena in Moscow was a sell-out with the likes of Ilya Kovalchuk and Alexander Ovechkin playing.

Charity match. "From a Pure Heart".

Reds - Blues - 10:8 (4:1, 0:3, 6:4)

Goals:

1:0 Kamensky, 01.29
1:1 Grigorenko (Andronov, Zubarev), 08.40
2:1 Kovalchuk (Orlov, Malkin), 13.47
3:1 Selanne (Malkin, Radulov), 14.41
4:1 Radulov (Orlov, Kovalchuk), 19.56
4:2 Barkov (Kalinin), 26.48
4:3 Telegin (Andronov, Grigorenko), 32.05
4:4 Butman (Shipachyov), 33.09
5:4 Gusev (Datsyuk, Kovalchuk), 40.23
5:5 Telegin (Morozov, Zhamnov), 41.34
5:6 Kalinin, 47.31
6:6 Kaprizov (Datsyuk), 48.58
7:6 Selanne (Orlov, Kovalchuk), 49.15
8:6 Radulov, 51.37
8:7 Prokhorkin, 52.57
8:8 Kolobkov (Kablukov, Shirokov), 54.45
9:8 Kaprizov, 55.19
10:8 Gusev (Kaprizov), 55.52

Goalkeepers: Shestyorkin - Sorokin

22.08.2018.