ALL NEWS
National team players visited the children's oncology centre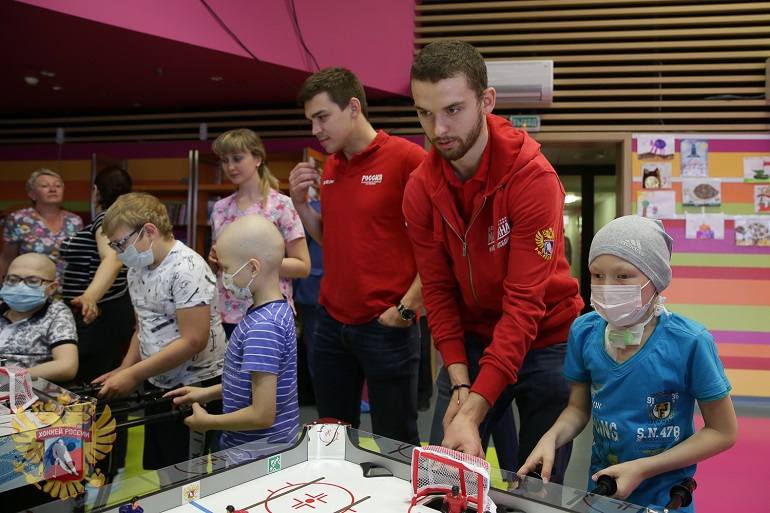 Russian national team goalkeeper Ilya Sorokin and defenseman Bogdan Kiselevich visited the children's oncology centre in Moscow, a place for pediatric hermatology, oncology and immunology and is named after Dmitry Rogachev. The event took place in connection with the Russian Ice Hockey Federation's support of Hockey Fights Cancer. RUSFOND and R-Farm are the other organisations participating in the project.

The players spoke to patients about sport, the project and played table ice-hockey with them. They then gave patients autographs, special presents from the RIHF and took photos with them.

Afterwards, a Russian national team jersey was gifted to the clinic.

IUTM Centre deputy director Dzhabrail Dzhabrail-Zade:

- On behalf of the organisation, I would like to thank the RIHF and the players for holding such an event for our patients. It will have a positive effect on their treatment. It would be great to organise such events on a more regular basis, the children are always happy.

Russian national team goalkeeper Ilya Sorokin:

- I can't describe my emotions! Everyone needs to come here and see this for themselves. Hopefully, the children also enjoyed themselves and they are full of positive feelings. The centre is bright for them. I believe that all patients currently here will eventually become healthy again and lead normal lives, cancer is a serious problem in Russia and the entire world.

Russian national team defenseman Bogdan Kiselevich:

- This isn't the first time when I have attended such an event. This is a really serious problem for the children and their parents. It's very important to watch your health and treat anything that requires medical help. With children here, it's best to play games, invite them to ice hockey matches and give them positive energy. At the Channel One Cup, we warmed up in designated Hockey Fights Cancer jerseys and we're trying to draw more attention to the problem.

Hockey Against Cancer is joint project organised by the Russian Ice Hockey Federation, RUSFOND and R-Farm.