ALL NEWS
Reaction after beating the Czech Republic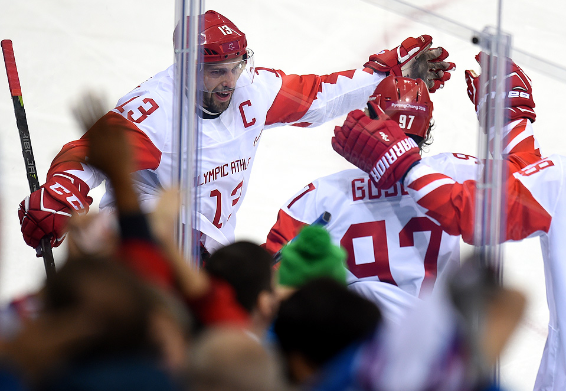 Forward Pavel Datsyuk:
- The first goal came about as a result of our excellent team play. For the second goal, Ivan Telegin did really well to set up the defenseman who was joining the rush. It was an important game, we felt the tension. Vasily Koshechkin played really well, but we have to forget about this game and focus on the final. No opponents are easy here, you can feel the nerves both on and off the ice. No one wanted to make a mistake.
Forward Ilya Kovalchuk:
- You can say that it was a difficult game, we scored two goals in the second period and then we did a solid job on the penalty kill. Today is February 23, we couldn't have played badly. We know all of the guys on the Czech team, they play aggressively and really well. I think that we deserved to win though, we tried hard. The most important game of everybody's career awaits.
Forward Mikhail Grigorenko:
- I don't know how to share my emotions after this match, this is a very important victory and the guys did a great job. However, we struggled in the first period because we wanted to win so badly. It's important that we scored first and then did well on the penalty kill.
Forward Kirill Kaprizov:
- Everyone expected a difficult game, it's great that we managed to win. I congratulate all of the fans and country with this win and the Defender of the Fatherland Day!
Defenseman Vladislav Gavrikov:
- We congratulated everyone with today's celebration with this victory. You can't choose your opponents for the final, We're improving with every game, in the final we should play at our best.
Russian Ice Hockey Federation