ALL NEWS
Ilya Kovalchuk: "Our dream has come true"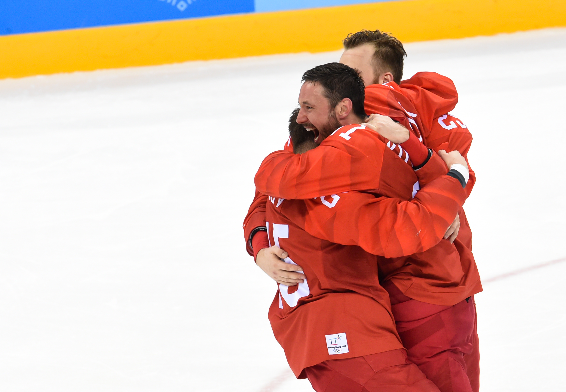 Forward Ilya Kovalchuk:
- It was a crazy match. Nikita Gusev scored, we went 2:1 up, and everyone thought that we would hold on. However, we then conceded two poor goals and took a penalty too. You need to put together a film about this game.
- Is this the most crazy match in your life?
- 100%. When we were 2:3 down and shorthanded two minutes before the end, I thought that it wasn't meant to be for me to become an Olympic champion. Thankfully, we won. It's great that so many people came to support us, our wives and children were here. We know that celebrations which are taking place in Russia now. Everyone knows that we're athletes from Russia.
- Did you say anything to Nikita Gusev in the dressing room?
- No, but he had a fantastic tournament. I knew that he is a good player. He did really well at the previous World Championship, and his performance today will go down in world history.
- What can you say about Germany?
- They played very well and skate excellently. In comparison to the 80's and 90's, ice hockey is changing. They showed why they beat Sweden and Canada, their players have been playing the sport for a long time. We were very close to losing. I congratulate them with their silver medals.
- How does Oleg Znarok feel?
- He seemed to be more relaxed today, he was very calm both in the dressing room and on the bench. It gave us an extra impulse. We equalised and scored in overtime.
- In an interview, Pavel Datsyuk stated that he now needs to find a new dream to chase.
- We have finally achieved what we wanted. Tomorrow, we will fee exhausted, but athletes give themselves new challenges. I would like to congratulate Pavel Datsyuk on joining the Triple Gold Club, he deserves it. Pavel is a true captain.
Russian Ice Hockey Federation