ALL NEWS
Oleg Znarok: "This was the most important match of my life"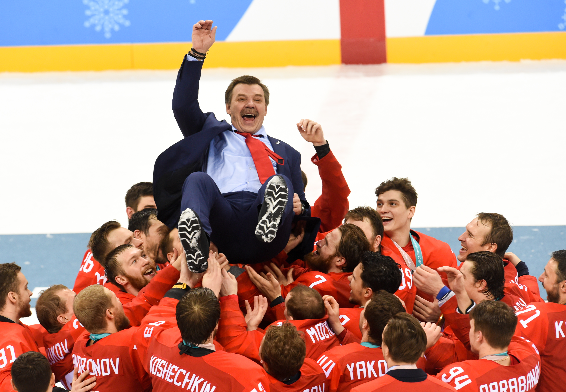 Head coach Oleg Znarok:
- I think that this victory answers all of your questions.
- Before today, did you work over more of a dramatic match?
- This was the most important match of my life.
- The players noted that you were very calm.
- It was probably a mask. I felt nervous, but I tried not to show the players this.
- How did you feel two minutes before the match ended?
- It's hard to say. We had to make a decision in a split second, it ended up going our way. The same applies to our winning goal.
- Did the fact that the flag won't be at the closing ceremony make you more motivated?
- We felt calm about this. Russia is in our hearts.
- Have you made a decision about the next Olympic four year cycle?
- No, I'm very tired. I'll think about it.
- You were named Olympic favourites before the tournament began.
- Good teams played at the Olympic Games. There was no point calling us favourites.
- Did you speak to Nikita Gusev after his second goal? And who called you following the match's completion?
- No, the guys understood the situation for themselves. Vladimir Putin and Alexander Zhukov phoned and congratulated me with the win, it was nice.
- It was the fifth Olympic Games for Ilya Kovalchuk and Pavel Datsyuk. Did you ask the younger players to try hard for them?
- We had a team here, anyone could have decided the outcome.
Russian Ice Hockey Federation