ALL NEWS
The Russian national team have returned to Moscow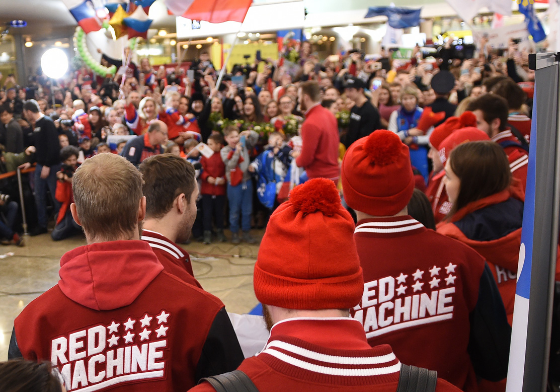 Following the 2018 Olympic Games in South Korea, the senior Russian men's national team returned to Moscow on a flight from Seoul.
A number of fans, friends and family members travelled to Sheremetyevo Airport to meet the players.
Russian national team forward Sergei Andronov:
- Thank you to the fans for supporting us and to the management for giving us the support and helping our team at the Olympic Games. We showed that our country cannot be broken. We have become stronger.
Russian national team forward Kirill Kaprizov:
- We're really happy that we won the gold medal, I think that the country is happy. Thank you to all of the fans for being with us. The winning goal? It's not important who scored, because we are a team. I'm the youngest player? No, Pavel Datsyuk is!
Russian national team forward Mikhail Grigorenko:
- It's really nice that these people came here to meet us. We understand that the whole country supported us. We are really happy that we won the Olympic Games, we are looking at our medals and can't quite believe that we have become Olympic champions. You can expect any team to give us a tough task in the Olympic final. The Germans played really well. Do we regret that we didn't play the Finns or Swedes in the Olympic gold medal match? We're Olympic champions, we don't have any regrets!
Russian Ice Hockey Federation