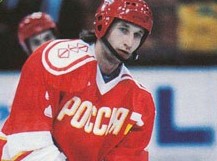 On the 11th of March, 1992 Olympic champion Sergei Bautin celebrates his birthday. Today he turned 50 years of age. The Russian Ice Hockey Federation wishes Sergei a very happy birthday, as well as health and happiness!
Bautin Sergei Viktorovich
Honoured Master of Sports, defenceman
Began playing ice hockey in Murmansk.
His first club was Kristall, played for them between 1987 and 1990.
USSR champion in 1991 and 1992 with HC Dynamo Moscow.
1992 Olympic champion.
Played at the 1992, 1997 and 1999 World Championships (19 matches, 5+5).