ALL NEWS
Vasily Podkolzin: "All of the players want to win the Five Nations"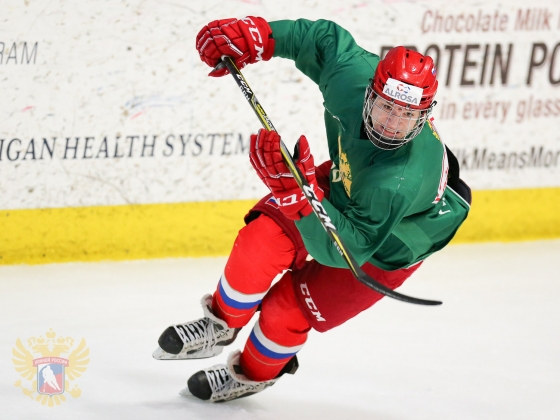 The under 18 national team are continuing to prepare for the Five Nations tournament in the USA.
Our players trained in these following lines:
Goalkeepers: Miftakhov, Isaev, Oskoryak.
Reds: Romanov, Okhotyuk - Iskhakov, Khovanov, Svechnikov.
Blues: Malyshev, Misyul - Marchenko, Morozov, Kruglov.
Yellows: Galenyuk, Zhurvalyov - Denisenko, Zhabreev, Kizimov.
Greens: Zhilyakov - Murtazin, Mikhailov, Podkolzin.
Forwards Yegor Sokolov and Pavel Rotenberg have now arrived, and will begin training on the ice tomorrow.
U18 forward Vasily Podkolzin:
- The Five Nations is the final test before the World U18 Championship. However, all of us want to win this tournament before the World Championship in the spring. For me, this is an excellent chance to show what I am capable of. This is only my second tournament with the under 18 national team, I was nervous when I played my first competition. Now, I feel a lot easier. I have a different role than with the under 17 side, but I have a good relationship with the players here too. It's hard to play against older players, because the pace is faster and they play at a different level. I have mutual understanding coaches, I know that they are demanding from me.
Russian Ice Hockey Federation