ALL NEWS
The senior Russian men's national team spend a day in Tula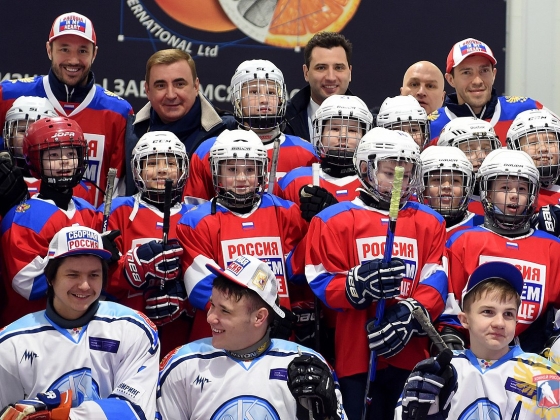 On Saturday, the senior Russian national team spent a day in Tula. Forwards Pavel Datsyuk, Ilya Kovalchuk and Kirill Kaprizov visited the city, along with RIHF first vice-president and team leader Roman Rotenberg. The players held a master-class for young ice hockey talents in Tula, spoke with sledge-hockey players and gave everyone special presents. Governor of Tula Region Alexei Dyumin and Tula Region Agriculture Minister Dmitry Milyaev hosted the event in Tula, stating his joy at having the senior national team in his city. "I would like to thank the players for creating an ice hockey celebration in Tula," stated Alexei Dyumin. "We now how difficult it is for our team now, but the whole country is supporting the players. We gave them a few large Tula pryaniks and a samovar which the team will take to South Korea."
Two pryaniks measuring 70 and 140 cm will stay in Moscow, while another two will go with the national team to South Korea. The phrase "Russia In My Heart" was on jerseys worn by young players at the event and will be Russia's slogan of the upcoming Olympic Games. Following the completion of the master-class, the event shifted to the Yasnaya Polyana factory where everyone was shown how pryaniks are made.
"Thank you to Alexei Dyumin for the positive emotions gained here!" exclaimed Roman Rotenberg. "Alexei loves ice hockey, and it's not surprising how ice hockey is fast developing in Tula. It's symbolic that the first 1956 Olympic champions Dmitry Ukolov and Alexander Uvarov were both from Tula. Ahead of the upcoming Olympic Games, we're happy to be here. I am sure that it will give us a boost before the tournament. We are taking pryaniks and a samovar with us to feel close to home."
"Thanks for the warm welcome!" added Ilya Kovalchuk. "For us, this is really important before the Olympic Games. Russia is in our heart, and we will do everything to win!"
Russian Ice Hockey Federation