ALL NEWS
Friendly match. Krasnaya Armiya - Russia U18 - 2:3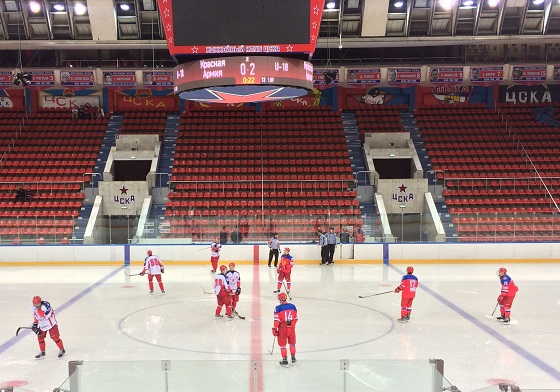 In Moscow, the under 18 Russian national team played their first friendly match of the 2017/2018 season against HC Krasnaya Armiya.
Matvey Guskov, Grigory Denisenko and Nikita Solopanov scored the goals for Russia U18, sealing a 3:2 victory.
Russia U18 head coach Alexander Zybin:
- Following three weeks of training, the guys found it tough getting into this game. At the moment, we are trying to put together our lines. Some aspects of today's game pleased me, but there are things to work on. Overall, I am satisfied with the players' committment.
Russia U18 Nikita Okhotyuk defenseman:
- We were 3:0 up at one point, everything was going our way. However, Krasnaya Armiya took the initiative towards the end of the game, while we became tired and started playing more in defence. In the end, we conceded another goal on the counterattack. Nevertheless, it's good that we held on to the victory.
Russia U18 forward Grigory Denisenko:
- The main thing is that we won, we played well in this game. We had a 3:0 advantage, but we let in two poor goals. We'll try and put that right at training. It was difficult getting into this match, we have been training hard. For my goal, I managed to squeeze the puck between the goalkeeper's legs.
Match protocol:
Krasnaya Armiya - Russia U18 - 2:3 (0:1, 0:1, 2:1)
Goals:
0:1 Guskov (Rotenberg, Zavgorodniy), 03.39
0:2 Denisenko, 24.26
0:3 Iskhakov (Solopanov), 50.02
1:3 Markus (Dolgopyatov, Korbit), 55.22
2:3 Mokritsyn (Markus, Filin), 59.49
Goalkeepers: Kozhanov - Miftakhov
Penalty minutes: 4 - 8
Russia U18 line-up:
Miftakhov (Isaev);
Okhotyuk, Zhuravlyov - Denisenko, Iskhakov, Bilyalov;
Galenyuk, Solopanov - Zavgorodniy, Guskov, Rotenberg;
Malyshev, Zhilyakov - Sokolov, Shabanov, Alexandrov;
Kalinichenko, Babintsev - Dyadenkin, Zhabreev, Rtischev;
Tsybin, Valitov.
On July 24th, Russia U18's squad will continue working out in Novogorsk. However, the roster has been cut down to 24. Georgy Dubrovsky, Timur Shiyanov, Roman and Ilya Badanin have all left the team. Gleb Murtazin and Daniil Misyul have also taken their leave because of injury.
Full squad:
Goalkeepers: Amir Miftakhov, Daniil Isaev, Denis Rybalkin.
Defensemen: Nikita Okhotyuk, Danila Zhuravlyov, Danila Galenyuk, Nikita Solopanov, Anton Malyshev, Bogdan Zhilaykov, Roman Kalinichenko, Gleb Babintsev, Daniil Valitov, Andrei Pribylskiy.
Forwards: Grigory Denisenko, Ruslan Iskhakov, Damir Bilyalov, Dmitry Zavgorodniy, Matvey Guskov, Pavel Rotenberg, Yegor Sokolov, Maxim Shabanov, Sergei Alexandrov, Danila Dyadenkin, Alexander Zhabreev, Nikita Rtischev, Maxim Tsybin, Alexei Drobin, Mikhail Romaev, Demid Mansurov.
Russian Ice Hockey Federation