ALL NEWS
Friendly match. Russia U18 - Loko-Yunior - 6:1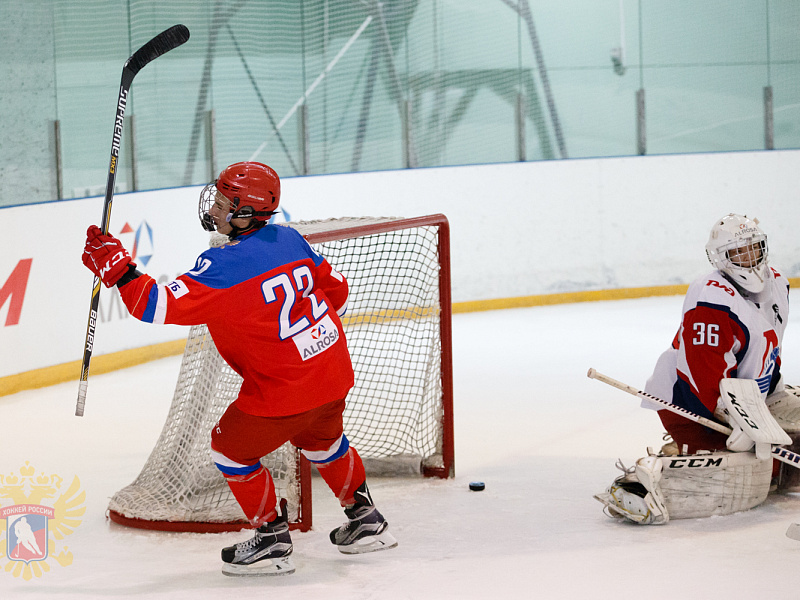 In Novogorsk, the under 18 Russian national team played a friendly match against HC Loko-Yunior. The game was planned as a part of Russia U18's training camp ahead of the Ivan Hlinka memorial tournament in August.
Russia U18 comfortably saw off their opponents, winning 6:1! Ruslan Iskhakov, Danila Zhuravlyov, Grigory Denisenko, Maxim Tsybin and Maxim Sokolov (2) scored the crucial goals.
Russia U18 head coach Alexander Zybin:
- We weren't satisfied with the first period, our tactics which we had planned in the morning didn't work. Maybe the players underestimated their opponents. Nevertheless, we improved after the first stanza and managed to win. Instead of just skating with the puck, the players started making plays. We only have one game left before we decide on our roster, we still have issues with some players. We need the defensemen to be quicker when getting back from joining the rush.
Russia U18 forward Yegor Sokolov:
- Having performed poorly in the previous game, I needed to prove why I am worthy of representing the national team. There is high competition within the group. For my first goal, I managed to tip the puck in after it had been dumped into the crease. My second was scored when Ruslan Iskhakov found me with a great pass.
Russia U18 forward Ruslan Iskhakov:
- In the first period, the opponents were better than us. However, we started taking advantage of our powerplays in the second period. The coach asked us to get fifteen shots on target in the third stanza in order for us to win. At the end of the game, we played six on four in order to work on this component. Given that we scored, I can say that the experiment worked out well. There are only ten days left before the Ivan Hlinka memorial tournament, but we will try to win the competition.
Russia U18 roster:
Isaev (Rybalkin);
Okhotyuk, Zhuravlyov - Denisenko, Iskhakov, Rtischev;
Galenyuk, Babintsev - Sokolov, Shabanov, Bilyalov;
Valitov, Zhilyakov - Tsybin, Mansurov, Drobin;
Kalinichenko, Pribylskiy - Dyadenkin, Romaev, Alexandrov, Zhabreev.
Match protocol:
Russia U18 - Loko-Yunior - 6:1 (1:1, 3:0, 2:0)
Goals:
0:1 Morin (Barinov), 07.40
1:1 Iskhakov (Galenyuk, Denisenko), 12.56
2:1 Zhuravlyov (Drobin, Tsybin), 26.45
3:1 Denisenko (Rtischev), 31.07
4:1 Sokolov (Zhabreev, Bilyalov), 39.57
5:1 Tsybin (Drobin, Zhilyakov), 43.09
6:1 Sokolov (Rtischev, Iskhakov), 59.26
Goalkeepers: Isaev - Okoryak
Penalty minutes: 32 - 12
26.07.2017. Novogorsk.
Russian Ice Hockey Federation