ALL NEWS
Friendly match. Russia U18 - Krasnaya Armiya - 7:1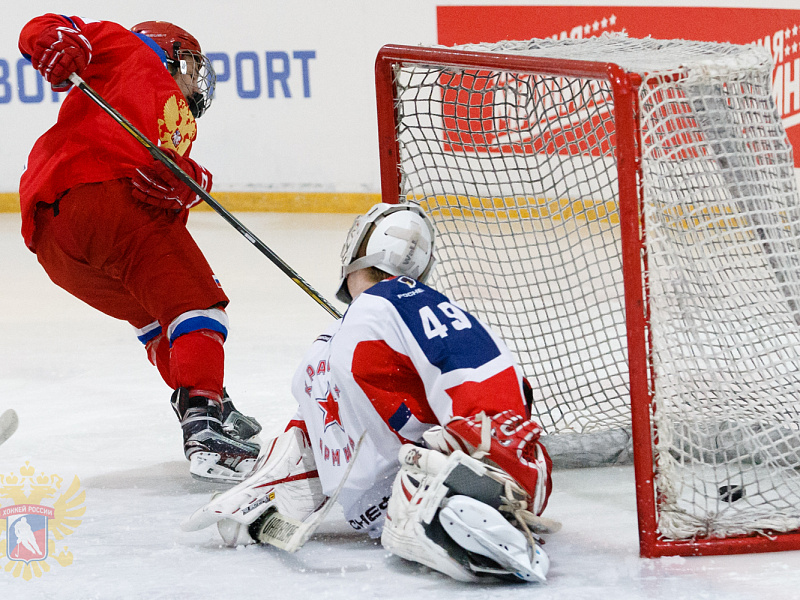 At their Novogorsk training camp, the under 18 Russian national team took on Krasnaya Armiya in a friendly match. These two sides had met just a few days ago in Moscow, with Russia U18 winning that fixture 3:2.
It proved to be a blowout victory for Russia U18, as the team thrashed their opponents 7:1! Ruslan Iskhakov, Danila Dyadenkin, Nikita Solopanov, Yegor Sokolov, Matvey Guskov and Grigory Denisenko (2) scored the goals.
Russia U18 head coach Alexander Zybin:
- Having only played a day ago, we didn't have time to fully prepare for this match. Nevertheless, we worked over our tactics at this morning's training session. Overall, the guys stuck to the game plan. However, we do have some problems with our central and right wing forwards. We will try to perform well at the Ivan Hlinka memorial tournament, I think that the guys understand just how important this competition is.
The MHL starts soon, and players born in 2000 should get into their team rosters. That will help us form an overall understanding of who is worthy of playing for the national team. We will try to win the 2018 World U18 Championship in Russia.
Russia U18 defenseman Danila Galenyuk:
- With this being the first series of games after the summer break, I think that we improved in every match. Having played against these opponents before, we knew what to expect from them. Despite Krasnaya Armiya having players older than us, we gave them a good physical game.
During this training camp, we focused on tactical issues and our special teams. All of us wanted to show what we're capable of.
Russia U18 forward Danila Dyadenkin:
- We played well in these friendly games, especially in this one. These victories give us positive emotions ahead of future challenges. Everyone was prepared for this match, we knew that the opponents would come at us harder than in the first fixture. It's important that we scored first.
Russia U18 line-up:
Rybalkin (Miftakhov);
Galenyuk, Solopanov - Denisenko, Iskhakov, Rtischev;
Malyshev, Babintsev - Zavgorodniy, Guskov, Rotenberg;
Kalinichenko, Pribylskiy - Sokolov, Zhabreev, Bilyalov;
Valitov, Zhilyakov - Tsybin, Mansurov, Dyadenkin, Shabanov.
Match protocol:
Russia U18 - Krasnaya Armiya - 7:1 (1:1, 4:0, 2:0)
Goals:
1:0 Iskhakov, 03.35
1:1 Mokrytsin (Filin, Oparko), 11.24
2:1 Dyadenkin (Bilyalov, Mansurov), 22.52
3:1 Solopanov (Zhilaykov, Bilyalov), 29.57
4:1 Sokolov (Zhilyakov, Bilyalov), 30.31
5:1 Guslov (Bilyalov, Zavgorodniy), 36.09
6:1 Denisenko (Iskhakov), 44.46
7:1 Denisenko, 53.09
Goalkeepers: Rybalkin - Skotnikov
Penalty minutes: 14 - 16
27.07.2017.
Russian Ice Hockey Federation